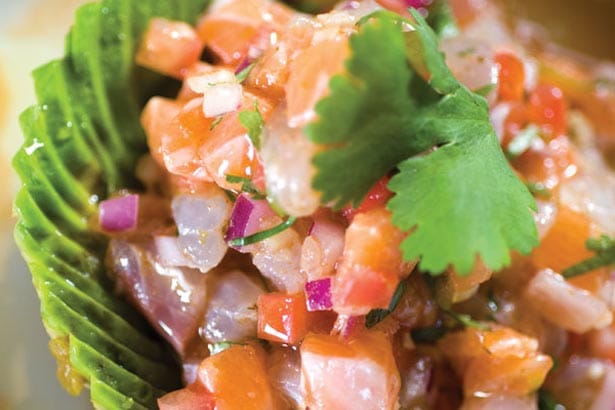 Celebrate Valentine's Day with an irresistible taste of the Islands. This flavorful ceviche makes a romantic starter or light meal and stars the freshest seafood, gently "cooked" by a tangy lime juice marinade. A touch of creamy coconut milk adds a distinctly Caymanian flair.
Coconut Lime Ceviche
1lb fresh tuna or wahoo, cut into 1/4-inch diced pieces
1 cup coconut milk
2 tbsp grated fresh ginger
1 tbsp white sugar
3 tbsp oriental fish sauce
1/2 cup fresh lime juice
1/4-1/2 Scotch bonnet pepper, to taste
2 tbsp fresh cilantro, chopped
2 tbsp scallion, chopped
2 tbsp red bell pepper, diced
Combine the coconut milk, ginger, sugar, fish sauce, lime juice and Scotch bonnet and blend until smooth. Place the diced fish, cilantro, scallion and bell pepper in a mixing bowl and add the coconut milk dressing. Toss to combine and serve chilled. For a real island touch, serve in a hollowed out coconut.
Recipe and photo courtesy of flavacayman.com