If you love shopping during your trips, you came to the right place. Looking at your souvenirs, mementos, and new outfits you got during your island getaway sparks great memories and vacation nostalgia. If you want to embark on a Grand Cayman shopping spree, we can point you in the right direction. You never know what you'll find! Make sure to get a copy of our complimentary Vacation Guide to discover even more things to do and see on the island.
5 of the Best Places to Go Grand Cayman Shopping
1. The Ritz-Carlton On-Site Shopping
If you're looking for high-end goods in a convenient location, you don't even have to leave the property of The Residences Seven Mile Beach in Grand Cayman. The incredible Ritz-Carlton On-Site shopping area contains some of the finest Cayman styles and goods, including clothing, culinary tools, jewelry, sporting goods, beach gear, and much more.
2. Camana Bay
Camana Bay is just five minutes away from The Residences Seven Mile Beach in Grand Cayman and has become a hot spot for shopping. Here, you'll find the perfect blend of local and international retailers that can easily take care of all your shopping needs. Browse the latest fashion, duty-free watches, designer jewelry, skincare products, and more. They also have hammocks where you can rest after hours of shopping and an observation tower where you can admire the breathtaking surrounding scenery!
3. Cayman Craft Market
Many people ask us where to go if they're looking to get something unique. We love sending people to the Cayman Craft Market! Artists native to the area to showcase and sell their handcrafted pieces you can't get anywhere else. Browse through goods such as jewelry, baskets, purses, dolls, toys, jams, preserves, and much more. You can get lost for hours exploring this local spot!
4. George Town
When shopping in George Town, head straight to Cardinal Avenue. Located in the heart of this area's shopping district, it is known for its many duty-free shops. We recommend making a stop at Kirk Freeport Plaza Ltd. to browse one of the largest collections of Rolex watches in the entire world! Plus, there is also jewelry, fragrances, crystal, and more. The best part? Shopping here is both duty-free and tax-free.
5. Galleria Plaza
For beautiful Grand Cayman art, head to Galleria Plaza. Also known as the Blue Plaza, this area is known for its mix of galleries and souvenir shops. It's an excellent place to take the family and explore!
Book Your Grand Cayman Getaway Today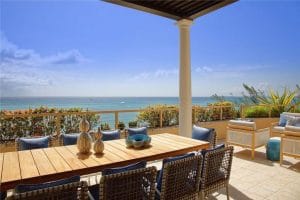 Treat yourself to the finest accommodations while you're experiencing the many wonders of the Cayman Islands! Book your stay with us at The Residences Seven Mile Beach in Grand Cayman; we have the finest properties and amenities waiting for you. With incredible views overlooking white beaches, dazzling blue waters, and lush gardens, you will never want to leave our deluxe properties of the Cayman Islands. Not only are we right on the beach, we're just moments away from Grand Cayman shopping, too! Browse our properties to start planning your stay. We look forward to seeing you!