Grand Cayman Weather
A trip to scenic Grand Cayman is always something for travelers to look forward to. That said, making the most of the fun often starts with understanding weather patterns here so visitors can plan their itineraries accordingly. Overall, the Cayman Islands enjoy a tropical marine climate where dry and relatively mild winters are paired up with warm, rainy summers. Weather patterns across Grand Cayman are affected by winter cold fronts due to their location as well as tropical hurricanes in the summer months. It's common for visitors to enjoy sunny mornings year-round, followed by hot afternoons and a bout of thundershowers, particularly in the west Grand Cayman area.
November to March Weather Trends
Those who plan to visit Grand Cayman anytime between November and March will likely find pleasant temperatures waiting to greet them. This time of year is considered winter and offers travelers a mild take on everything from skies and seas to average daily temperatures. Daytime temperatures throughout the winter range from 72 to 80 degrees Fahrenheit (22-27 C). Layering is a good idea this time of year despite clear skies overhead. It's not unheard of for a nor'wester to arrive in the winter bringing rough seas on the west and north coasts of the island.
Summer Travel Expectations
The months of May to October are considered summer across Grand Cayman and also make up the rainy seasons. Hot and humid average temperatures this time of year can be expected, typically averaging anywhere from 80 to 88 degrees Fahrenheit (27-31 C) midday. As temperatures rise throughout the summer, often peaking in July and August, heavy showers can actually be a welcome relief! It's advisable to always have sunscreen, a hat, and sunglasses packed when summer travel plans have you heading to Grand Cayman during this timeframe.
Additional Weather Considerations to Factor Into Your Plans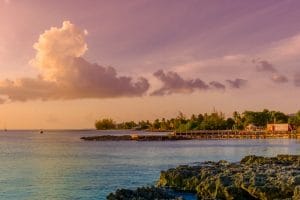 If your visit to Grand Cayman is designed to include plenty of time on or in the water, understanding fluctuating sea temperatures throughout the year can make for a more comfortable and convenient experience. In the summer season, those planning on snorkeling, diving, swimming, or sailing can expect water temperatures to linger around 85 degrees Fahrenheit (29 C). During the winter season, sea temperatures average 78 degrees (26 C).
Another important weather factor to consider before making plans to visit and enjoy Grand Cayman is how hurricane season might potentially impact your trip. Hurricane season is considered to be the time period between June 1st and November 30th. While it's not possible to anticipate every potential storm, those who are traveling here during this time will want to be sure to take any tropical storm warnings that do come up seriously.
Book Your Stay in Grand Cayman Today
Getting out of town and enjoying a getaway to Grand Cayman is always a good idea. When travelers are looking to make more of the experience through added luxury, comfort, and style, booking accommodations at The Residences is the place to start. Reach out today to learn more and to start planning your next trip! We can't wait to welcome you to Grand Cayman soon.