COVID-19 Update for Guests: International Travel, Global Citizen Info
As of October 1, Grand Cayman has begun its reopening phase for international travelers. We're so excited to start welcoming guests from around the world once again! While this is excellent news, there are quite a few restrictions and policies in place that travelers will need to review before booking their getaway. Continue reading for more of the most up-to-date information regarding traveling to the Cayman Islands. Then, feel free to contact us if you have any questions. 
---
Travel Restrictions for Global Citizens
Right now, the Cayman Islands are slowly beginning to welcome international travelers once again. In order to ensure the safety of local citizens and travelers as well, the island has restrictions regarding who is able to visit and what additional steps must be taken if you do visit. 
Grand Cayman will accept travelers: 
That own property on Grand Cayman 

Who are Cayman Island residents or who are family members of residents 

Who is approved to travel via Travel Time (

fill out this form

)
---
The Cayman Islands' Global Citizen Concierge Program
Who says you can't mix business with pleasure? The Cayman Islands' Global Citizen Concierge Program allows professionals and digital nomads to embrace a remote working lifestyle and immerse themselves fully in our care-free corner of the Caribbean. If you have the financial and professional independence that will allow it, you can opt to stay on Grand Cayman for up to two years through the Cayman Islands' Global Citizen Concierge Program. Here's what you need to know: 
Global Citizen Concierge Certificate Fee up to Party of 2 persons: US$1,469 per annum 

Global Citizen Concierge Certificate Fee for each dependent: US$500 per dependent, per annum

Applicants must provide various requirements in their application such as proof of employment, a bank reference, proof of identity, proof of health insurance, etc. 
You can learn more about requirements, travel options, current COVID-19 regulations, and more on the official Global Citizen Concierge Program website. Please contact us with any questions you might have about booking your stay in one of our Residences Located at The Ritz-Carlton, Grand Cayman. 
---
What to Expect When You Arrive 
In order to best preserve the health and safety of travelers and locals alike, the Cayman Islands require inbound travelers to adhere to a few guidelines: 
Travelers must quarantine for 14-16 days once they arrive. That's why we're recommending long-term rentals for international guests.

Consider purchasing

travel insurance

 

Expect to be treated for Coronavirus if you test positive while you're abroad 

Prepare for changes in travel policies

& more
---
More Information 
We've compiled a list of some of the best, updated information regarding travel to and from the Cayman Islands as of right now. Please consult the following resources for more information. 
For official information on the Cayman Islands' ongoing response to COVID-19, please visit:
Travel & Overseas Guidance
Coronavirus Statistics on the Cayman Islands
Additional Resources
---
Stay at The Residences Located at the Ritz-Carlton, Grand Cayman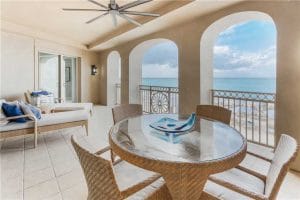 Whether you're planning a trip now or in the future, rest assured that you'll be in great hands when you stay with us. Our gorgeous properties set the scene for an unforgettable getaway overlooking the beautiful Seven Mile Beach. With luxurious amenities, comfortable accommodations, large kitchens, and more, you'll feel comfortable in one of our residences during a lengthier stay. We even offer pet-friendly spaces for those who are bringing their furry family members along. 
---