For many, vacation means sitting back and relaxing on beach, cocktail in hand. Your worries slip away under the warm sun, and the bartender is ready to give you a refill whenever you are ready. With a stunning background of white beaches and the dazzling blue waters of the Caribbean, Grand Cayman beach bars are a go-to spot for those wanting a drink on the sand. Discover our favorite bars and experience some of our island's finest (and tastiest) creations! For the inside scoop on planning your getaway, make sure you access our local Vacation Guide!
4 of the Best Grand Cayman Beach Bars
1. Bar Jack
One of the finest bars on Seven Mile Beach, Bar Jack is well-known for offering the best sunset views. Settle down in one of their comfy seats and sip on one of their famous pina coladas as you watch the waves crash on the beach. Bar Jack also serves light fare for those who are craving a fresh snack after spending time in the sun! Plus, you can't beat its location; it's right onsite at The Residences Seven Mile Beach in Grand Cayman. Take a dip in the pool, lay out on the sand, then come to Bar Jack for a cocktail or two at your own convenience!
2. Sandbar Grand Cayman
Imagine yourself sipping an exquisite drink and enjoying some delicious appetizers as the ocean breeze blows through your hair. Sounds good, right? Then head to the Sandbar Grand Cayman! You'll love the views of the sunset from the outdoor seating area. 
3. Coconut Joe's Beach Bar and Grill
If you're looking for a casual Grand Cayman beach bar, head to Coconut Joe's Beach Bar and Grill. Catch the game on their big screen to cheer on your team! Order a few rounds of beer buckets and some fantastic food. They also host a variety of events you won't want to miss, so check out what's happening during your stay at The Residences Seven Mile Beach in Grand Cayman.
4. The Wreck Bar and Grill in Rum Point
If your dream is sipping a tropical drink in a hammock on the beach, your dream can come true when you visit the Wreck Bar and Grill in Rum Point. This fantastic restaurant and bar not only serves amazing authentic local cuisine, but they can also whip up the most delicious cocktail you've ever tasted. Come on out to lounge on the beach and try their extraordinary drinks! Plus, Rum Point is an excellent spot to spend the day at. Seek some thrills on a jet ski, then relax with a drink!
Book Your Getaway in Paradise Today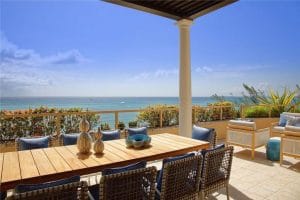 Are you ready to experience some of the best Grand Cayman beach bars? Book a room with us at the Residences Seven Mile Beach in Grand Cayman; we have the finest suites and amenities waiting for you. With incredible views overlooking white beaches, crystal blue waters, and lush gardens, you will never want to leave our deluxe properties of the Cayman Islands. Browse our luxurious Residences and villas to start planning your stay!