When you stay at The Residences Seven Mile Beach in Grand Cayman, you don't even have to leave the property to have an outstanding vacation. With restaurants, a beach, pools, tennis courts, and more right on site, you have everything you need at your fingertips! However, for our adventurous guests, we have some recommendations on other places to explore. Try heading to Rum Point on Grand Cayman for some fun! Access our complimentary Vacation Guide for the inside scoop on planning the getaway of a lifetime.
Where Is Rum Point?
Rum Point on Grand Cayman is about a 45-minute drive from The Residences Seven Mile Beach in Grand Cayman. Although it is a bit of a hike, it will be worth it to see other parts of the island! Your route take you through George Town and along the southern side of the island before traveling back up to Rum Point. If you don't want to make the drive, you can take the Catamaran Ferry from Seven Mile Beach!
4 Reasons Why You Need to Visit Rum Point on Grand Cayman
A Family-Friendly Beach
The soft, white sands of Rum Point Beach make it a favorite spot for visitors and locals alike. Plus, the water here is known for being very shallow and clear, so it is perfect for families. The water doesn't start to get deep for about a mile out, so you can sit and relax on a lounge chair while the kids splash around.
Water Sports
Are you looking for a little extra adventure? You can get out on the water when you rent from Red Sail Sports! Water toys include wave runners, kayaks, paddleboards, and more. Vacations are all about making memories, and enjoying the clear, calm waters of Rum Point is a perfect way!
The Wreck Bar
There's nothing quite like enjoying an ice cold beverage on a sandy beach. The Wreck Bar is located right on the beach, so you'll have stunning views of the water as you sip. Make sure you indulge in a mudslide; they were invented here! Do you have the kids with you? They'll love non-alcoholic daiquiris and smoothies!
Caribbean Cuisine
If you want to get a taste of Cayman Island cuisine, there is a great restaurant at the Rum Point Club. Enjoy locally caught fish and other island staples here! You are sure to get hungry during your day trip to this part of the island, so it is an excellent option to enjoy while you are here.
Book Your Cayman Getaway Today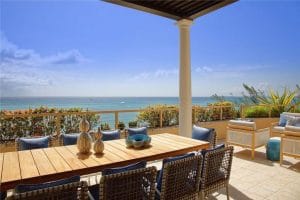 Explore all that the Cayman Islands have to offer when you stay with us at The Residences Seven Mile Beach in Grand Cayman. Our luxury condos overlook Seven Mile Beach, so you are in a great location to experience island life. Whether you want to take a day trip to Rum Point or soak up the sun on our portion of beach, our outstanding amenities and top-of-the-line accommodations are sure to give you the vacation of a lifetime. Browse our properties to start planning your stay!