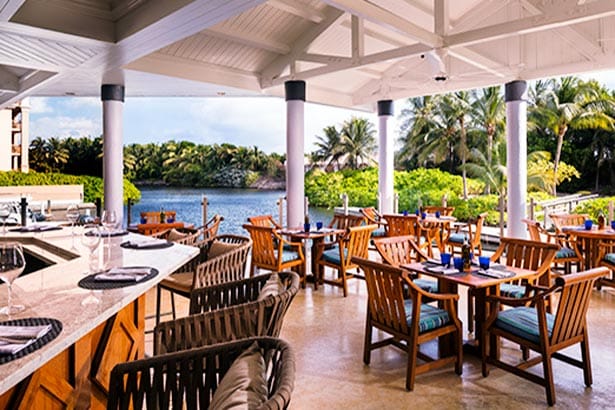 Andiamo
What's more fun for kids (and their parents!) than dinner and a movie? Simple. Dinner and a classic movie screening under the stars!
At Andiamo, enjoy classic Italian cuisine in a casual Caribbean setting…topped off with an outdoor movie shown nightly at the adjacent Harbour Club theatre. The al fresco Italian kitchen celebrates homemade favorites, including fresh-made pasta, pizza and delicately grilled entrees, on a breezy terrace overlooking the resort's winding waterways. Enjoy flavorful bruschetta, flatbread and our signature "Fatbreads," plus a menu of child-friendly Italian favorites. And don't miss our indulgent Parmesan Truffle French Fries…this addictive treat adds a grown-up twist to everyone's favorite tuber!
Homemade gelato, served from our whimsical cart, is the perfect way to end your meal. Or cool off with a cup of cool, creamy deliciousness while you relax at the Harbour Club Pool and Starfish Cay water park.
Open for lunch & dinner daily from 11:30 a.m. to 9 p.m.