Traveling is an opportunity to see and experience something new but maintaining a sense of inner balance is something you can maintain no matter where you roam! Those heading to Grand Cayman who are looking to incorporate yoga practices into their stay will find there are plenty of options available. Whether you're hoping to enjoy specialized classes or explore unique island studios, incredibly refreshing and relaxing moments await. Yoga in Grand Cayman has the added benefit of an amazing climate and stunning scenery to pair with your practice. Yogis of all skill levels are sure to find a practice here to be one-of-a-kind.
Discover even more things to see and do on the island when you access our complimentary Vacation Guide.
Experience Yoga in Grand Cayman
Booking a mobile yoga class that can be hosted at your vacation rental, or even on the beach is a breeze with the team at Kurma Yoga. Here, it's entirely possible to book private or group yoga sessions according to skill level in a setting that fits your comfort style. Kurma Yoga is headquartered at 64 Market Street in Camana Bay on Seven Mile Beach, but can provide yoga classes to clients located anywhere from Rum Point to west Bay upon request. Enjoy customized yoga in Grand Cayman when you book with Kurma Yoga!
Pair Yoga and Meditation at One Heart Yoga & Apothecary
Taking time to unwind in Grand Cayman is simple when you make your way to One Heart Yoga & Apothecary. Here, yogis can pair balance and Zen by booking a yoga session followed by a meaningful meditation class. This locale also offers sound healing, and the incorporated apothecary carries natural remedies and spiritual ritual props. They're located at 215 West Bay Road Unit 6-7 in George Town, and classes can easily be booked online in advance.
Access Serenity at Cayman Yoga Club
Travelers looking for yoga in Grand Cayman that can be enjoyed in a tranquil studio setting will find it at the Cayman Yoga Club. Located along Seven Miles Beach, this studio focuses on breath, movement, and serenity that encompasses both the body and the mind. They offer a variety of classes on-site that suitable for beginners and advanced yogis alike. Class options like slow flow focus on immersion with the energy surrounding you. Yin yoga classes here combinate movement and surrender to achieve balance. Vinyasa classes offer a dynamic flow experience that will get your heart beating and your senses feeling fantastic. It's a form of moving meditation that's sure to inspire.
Sprinkle in Restorative Services at The Ritz Carlton Spa
Once you have your mind in balance, treating the body to restorative services at The Ritz-Carlton Spa is a rejuvenating follow-up! This world-class spa is located within The Residences at the Ritz-Carlton and pairs exceptional luxury with relaxation. Treatment options here include everything from skincare and massage to exfoliating treatments and soaks, just to name a few. The setting emphasizes a sense of calm through the meticulous use of water features and a cool silver color palette throughout. It's a spa made to make every moment a gift! You're sure to leave looking and feeling your very best.
Book Your Island Getaway Today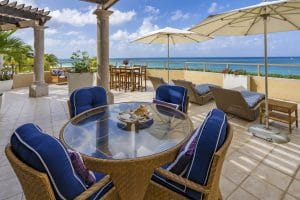 When you're ready to turn Grand Cayman vacation plans into a reality, booking luxurious accommodations at The Residences is always a good idea. Reach out today to learn more about booking options and to get started.
Enjoy a private bellman, concierge, and more. Browse our residences to start planning your stay. We look forward to hosting you!