Vacation is all about relaxation and rejuvenation. The first step to a stress-free getaway is letting your worries slip away on Seven Mile Beach. With soft sand, crystal-clear water, and swaying palms, it's impossible to let your outside troubles get you down. To take your vacation to the next level and indulge in a Grand Cayman spa treatment. Spas on the island offer everything from massages to facials, each ensuring that you will be fully rejuvenated. To learn more about spas and other things to do on the island, make sure you get a copy of our complimentary Vacation Guide.
A Local's Guide to Grand Cayman Spas
The Ritz-Carlton Spa
Just steps away from The Residences Seven Mile Beach in Grand Cayman, The Ritz-Carlton Spa is like heaven on earth. Not only is it conveniently located on The Ritz-Carlton Grand Cayman property, The Ritz-Carlton Spa is a world leader in skin care.
With its shimmering walls of water and cool silver palate, this Ritz Carlton Grand Cayman spa is a refreshing oasis that offers a tranquil respite from the Caribbean sun. Choose from stress-melting massages or signature full-body treatments like Diamond Perfection. All are based on the pioneering research of the Swiss-based Laboratories, la prairie. Select services are even available in the privacy of your own room or in a private luxury cabana!
BodyWorks Grand Cayman
If you are focusing on your health and wellness during your stay at The Residences Seven Mile Beach on Grand Cayman, head to BodyWorks Grand Cayman. Part Grand Cayman spa and part yoga studio, the experts here focus on both the mind and the body. Take a yoga class for a peaceful workout, carve some time out of your day for meditation, then relax completely with a spa treatment. Enjoy facials, manicures, pedicures, and massages here.
Touch of Thai Grand Cayman
Touch of Thai Grand Cayman lets you experience the hospitality and authentic healing arts of Thailand. Thailand's legendary beauty tradition of glorious hair, skin, and nails is the inspiration for Touch of Thai's sophisticated salon services. Cocoon yourself in a warm seaweed wrap or reduce your dark circles with a facial that will let you leave your vacation looking refreshed. Whether you spend an hour or an entire day, this Grand Cayman spa's concierge will help you plan every step.
Hibiscus Spa Grand Cayman
The Hibiscus Spa Grand Cayman is a luxurious 7,000 square foot facility. There are thirteen treatment rooms, two steam rooms, and a leisure room to wait in and prepare for your treatment. Services include massages, facials, body scrubs and wraps, manicures and pedicures, and waxing. Enjoy a massage on the beach or a pedicure in a beautifully lit room.
Book Your Grand Cayman Spa Getaway Today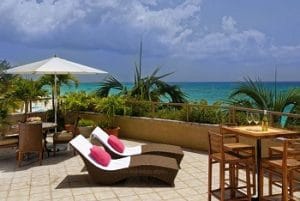 Relaxation and luxury await you in the Cayman Islands. Make sure your getaway is as stress-free as possible when you stay at The Residences Seven Mile Beach in Grand Cayman. Not only can you indulge in a Grand Cayman spa treatment in the comfort of your own residence, you also have access to the most incredible amenities on the island. Browse our properties to start planning your stay. We want you to experience ultimate luxury in the Cayman Islands, so check our availability and book your favorite property today.