Nature lovers flock to the Cayman Islands to see the breathtaking landscape. With swaying palms, pristine sands, and island greenery, it's paradise! To see some of its beauty, we suggest going somewhere like Queen Elizabeth II Botanic Park. Enjoy picturesque native flora and fauna, wildlife, and more! You'll want to make sure you bring a camera so you can document the vibrant colors and rare species here.
If you're looking for more outdoor fun like the Queen Elizabeth II Botanic Park, we can help! We created our Cayman Islands Vacation Guide to save you from hours of research. In it, you'll find a handpicked list of local recommendations that will help you have the getaway of a lifetime. Get your copy today!
4 of Our Favorite Things to Do at the Queen Elizabeth II Botanic Park
Explore the Gardens
For many, the main draw of the Queen Elizabeth II Botanic Park is its incredible gardens. Everywhere you look, you will see vibrant colors and decorative arrangements. Each garden here has its own unique features and characteristics that make exploring the park an adventure! Rare, beautiful flowers line expertly landscaped ponds and lakes. We recommend stopping by the Visitor Centre to get a guide of all the plants and animals you might see.
Spot the Famous Blue Iguanas
Once considered a species facing extinction just two decades ago, blue iguanas are now breeding successfully in the Cayman Islands! If you want to see them during your stay at The Ritz Carlton Seven Mile Beach in Grand Cayman, you will most likely encounter them at the Queen Elizabeth II Botanic Park. Keep a lookout for them roaming around the area!
Watch the Butterflies
Blue iguanas aren't the only unique creatures in this park! You will be treated to a variety of butterflies fluttering from bloom to bloom. These gorgeous insects add an element of magic to your experience. There are more than 60 different types here; everywhere you look, you can delight in the brilliant colors that float across the sky.
Attend Events
There's always something going on at the Queen Elizabeth II Botanic Garden! They hold multiple events throughout the year to get the community interested in their conservation efforts. Some of the most popular events are the February Orchid Show and Earth Day celebrations. Check their events page to see if anything is going on during your stay at The Residences Seven Mile Beach in Grand Cayman!
Stay in Paradise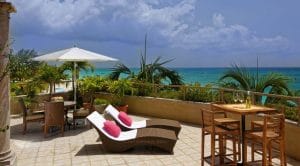 Get the most out of your Cayman Islands experience when you stay at The Residences Seven Mile Beach in Grand Cayman. Relax and refresh in your luxurious accommodations between all your excursions like visiting the Queen Elizabeth II Botanic Park and touring the rest of the island. The finest properties and amenities await including multiple pools, tennis courts, private doormen, and an expert concierge service. With incredible views overlooking white beaches, dazzling blue waters, and lush gardens, you will never want to leave our deluxe rentals. We know you will make unforgettable memories in Grand Cayman, so check our availability today to start planning the trip of a lifetime!