We can assure you that you have never experienced a paradise like the Cayman Islands before! This destination is overflowing with adventure. You can explore the ocean floor in a submarine, observe blue iguanas in their natural habitat, or enjoy a wide variety of thrilling water sports in the blue Caribbean waters. One of our favorite attractions you have to experience during your stay at The Residences Seven Mile beach is Stingray City in Grand Cayman.
If you're looking for more activities to experience during your getaway, we can help. Our complimentary Vacation Guide is made up of a handpicked list of local recommendations of all the best ways to experience our island. It will save you hours of research! In it, you'll find things to do like visit Stingray City in Grand Cayman, the best restaurants in the area, and more. Get your copy today!
About Stingray City in Grand Cayman
Have you ever dreamed of swimming with stingrays? You can at Stingray City in Grand Cayman! This incredible attraction puts you right in the water with these magnificent creatures. The water is about 3-5 feet deep and crystal clear, perfect for this unique experience. Those who book a charter here can also borrow snorkeling gear, completely free of charge, to get a better look at these underwater beings. Photographers take underwater pictures so your whole experience will be documented. They also offer other tours such as the Coral Garden, Turtle Lagoon, private charters, and much more.
Swimming with Stingrays at Stingray City
If you're nervous about being in the water with enormous stingrays, we completely understand. That's totally normal! However, if you follow the right protocol, you won't have to worry one bit. Here are a few tips to have the best experience possible at Stingray City in Grand Cayman.
Be gentle

. If you respect the stingrays, they will respect you. Don't make any sudden movements or show disrespect by poking them or any other aggressive gestures. These creatures are sweet-tempered, but don't forget that they are wild animals that can become agitated if they are provoked.

Stay alert

. Don't walk backward or take a step without looking first to make sure you don't collide with a stingray. They have a barbed tail that would be painful for the both of you if you stepped on it! However, the size of these rays means that they're very easy to spot as long as you keep an eye out.

Don't feed them your lunch

. Since stingrays are wild; they are not meant to eat food intended for humans. However, you can obtain special food that's meant for stingrays from Stingray City and feed them right out of your hand! It's an incredible experience that people of all ages love.
Book Your Stay Today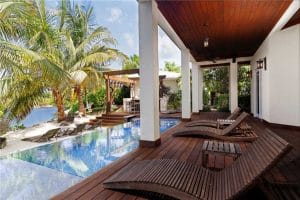 It's time to book the getaway of a lifetime at The Residences Seven Mile Beach in Grand Cayman! Swimming with stingrays at Stingray City in Grand Cayman is just one of the many things you can do here. With incredible views overlooking white beaches, dazzling blue waters, and lush gardens, you will never want to leave our deluxe properties of the Cayman Islands. Go out and explore the many nearby attractions of our local area, or simply take time to relax in the comforts of our residences. We know you will make unforgettable memories here in the Cayman Islands, so check our availability today to start planning the trip of a lifetime!