When you're on vacation, food isn't just a necessity. It's part of the experience! If you consider yourself a foodie, the best time to visit the Cayman Islands is October. Restaurant Month in Grand Cayman gives visitors the chance to branch out or try something new at reasonable prices for the entire month! Access our complimentary Vacation Guide to get the inside scoop on planning your October stay.
Details of Restaurant Month in Grand Cayman
Restaurant Month was designed to give people the opportunity to eat at some of Cayman's best restaurants for the best possible prices. Their goal is to get both locals and visitors alike to try Cayman cuisine that they might not normally indulge in. This is the perfect time to go back to your favorite dinner spot or try something new, especially if you want to save a little on your food budget. Lunches start at just CI$10 for 2 courses and start at CI$25 for a 3-course dinner. Some restaurants even have wine pairing options!
Participating Restaurants
The list of restaurants participating in Restaurant Month in Grand Cayman changes every year. This means that you can attend year after year and try new eateries each time! Usually, about 20 different restaurants take part during the month of October so you have more than enough options to enjoy.
What You'll Find during Restaurant Month in Grand Cayman
Because the participating eateries changes every year, you never know what cuisine will be offered! There is always a wide variety to choose from, so you can always find something on the list to please your taste buds. Dishes offered range from seafood to pasta, so you can get a true taste of Caribbean cuisine! Try out some local fare or opt for international favorites. Grand Cayman has been named the Culinary Capital of the Caribbean, so you know the food is going to be delicious. This is the perfect opportunity to try something new from a world-class chef.



Can't Make It to Restaurant Month?
If you can't make it to Restaurant Month in Grand Cayman, that's okay! The food isn't going anywhere; you'll love trying our island cuisine at any time of year. There are plenty of other delectable restaurants to choose from right on Seven Mile Beach as well, or you could explore The Ritz-Carlton Grand Cayman's other restaurant options.
You don't have to stray far from The Residences Seven Mile Beach in Grand Cayman for an AAA Five Diamond dining experience. The Ritz-Carlton Grand Cayman's Blue by Eric Ripert is the only restaurant of its kind in the entire Caribbean. It features a wine list of over 700 choices in addition to the most exquisite entrees you've ever tasted.
Stay Close to Cayman Cuisine at The Residences Seven Mile Beach in Grand Cayman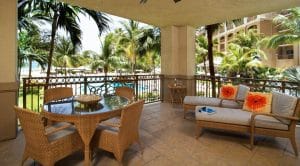 When you stay at The Residences Seven Mile Beach in Grand Cayman, you'll be in the center of the action yet far enough away that you can enjoy our beachside oasis. Whether you decide to come during Restaurant Month in Grand Cayman or at another time, our concierge service will be happy to recommend the best restaurants around. With incredible views of white beaches, dazzling blue waters, lush gardens, and outstanding amenities, you will never want to leave our deluxe properties of the Cayman Islands. Browse our Residences to choose your favorite, then book your stay! We know you will make unforgettable memories here, so check our availability today to start planning the trip of a lifetime.