It's easy to find activities everyone will enjoy on our island. If you're looking for something fun for the whole family, we recommend trying something like a jet ski rental in Grand Cayman. You'll have a blast speeding around the ocean! Access our complimentary Vacation Guide for the inside scoop on planning the rest of your fun-filled getaway.
5 of the Best Places to Get a Jet Ski Rental in Grand Cayman
1. Fat Fish Adventures
Fat Fish Adventures always makes sure you have a good time! They offer a great jet ski rental excursions in Grand Cayman. First, you'll be brought to the famous Stingray City to get a lesson on how to operate the jet skis. Then, you'll be brought around to various spots around the coast by an expert guide. You'll get to snorkel around a coral reef and see the rays at the Stingray City Sandbar between stops!
2. Salt Watersports
If you'd like to be on your own without a guide on your jet ski rental in Grand Cayman, consider getting one from Salt Watersports. Located right on Seven Mile Beach, they are conveniently just moments away from The Residences Seven Mile Beach in Grand Cayman. If you'd rather have a guide present, they can take you on a Shipwreck Jet Ski Snorkel Safari to the USS Kittiwake!
3. Sealand Adventure Tours
Sealand Adventure Tours are known for giving some of the best tours on the island, including a jet ski rental in Grand Cayman excursion! This particular tour includes an awesome combination of jet skiing and snorkeling. Snorkel gear, a life jacket, and a safety briefing are all included in the tour. You'll have everything you need to have a great time!
4. Cayman Luxury Charters
If you truly want a vacation memory that will last forever, consider getting a charter with jet skis included. Cayman Luxury Charters will take you out on a catamaran for the day! Their excursions include everything you need to have a great day out on the water such as snacks, drinks, snorkeling gear, and more. Plus, you'll have a chance to pick an onboard water sport activity like jet skiing!
5. Cayman Watersports
Cayman Watersports is known for being one of the top outfitters on the island. When you decide to rent a jet ski from them, they will even deliver it right to your accommodations. We recommend getting a jet ski here if you would like to explore on your own since there will be no guide. You can rent hourly, half day, or full day; plan your trip to see how much time you will need, then go from there!
Memories Start at The Residences Seven Mile Beach in Grand Cayman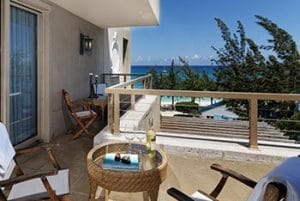 You'll need a home base for all your jet ski rental in Grand Cayman adventures, and we know just the place. The Residences Seven Mile Beach in Grand Cayman is the ultimate getaway. Overlooking a gorgeous stretch of beach, our luxury condo rentals have everything you need for the vacation of a lifetime. Complete with unparalleled amenities and on-site activities, there is no better place to stay. Browse our Residences, then start planning the trip of a lifetime!