When you stay at The Residences, you have full access to The Ritz-Carlton, Grand Cayman. Luxury has been taken to the next level with the resort's brand new look and renovations. Keep reading to learn what's new throughout the resort.
When you're ready to start planning your trip to the island, access our complimentary Grand Cayman Vacation Guide. This resource is filled with local recommendations on what to do, see, eat, and more during your stay. It's easy to expand your Grand Cayman itinerary using this thoughtful tool! 
Ritz-Carlton Invests in Grand Cayman
How Much Did the Renovation Cost?
The Ritz-Carlton invested US$50 million into the renovation of its Grand Cayman resort on the award-winning Seven Mile Beach. The resort closed its doors for six-and-a-half months in 2021 to complete the work.
What Was Renovated?
The CEO of Dart, the resort's parent company, told The Camana Bay Times that the company originally '"planned to renovate the guest rooms in 2021 and the common areas by 2025, but with the prolonged border closure"' they decided to complete all renovations at once. The same article states the hotel's lobby, the Silver Palm Lounge, the corridors and elevator lobbies, the restrooms, the art gallery, and the ballroom.

How Was the Resort Redesigned?
The resort worked with Champalimaud Design from New York to combine luxurious mid-century British Caribbean styles with classic Cayman cultural touches. General Manager Marc Langevin told The Camana Bay Times it was very important to the resort to incorporate and honor the Cayman Islands and its people. He also added that the reimagined art gallery will now be used '"to showcase Cayman's freshest artistic talents in a professional exhibition environment that focuses attention on the art."'

Stay At the Renovated Ritz-Carlton, Grand Cayman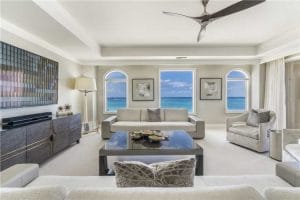 When you consider a setting as incredible as the Cayman Islands for your vacation, you want your accommodations to match the splendor of the bright blue waters and pristine beaches of the landscape. That's never been easier at these Ritz-Carton renovations! Our residences are located within the resort with access to all of its amenities, so you'll never compromise on luxury with The Residences. All of our rentals include a chef's kitchen, concierge service, a balcony or patio, designer furnishings, high-end features, luxury bathrooms, access to all of the resort's amazing amenities, and views of either Seven Mile Beach, lush tropical gardens, or both. Whether you're looking for something on the ground floor or a property that can sleep up to 14 guests, we're sure to have the perfect Grand Cayman vacation rental for your group.
Are you ready to embark on the adventure of a lifetime? Check our availability and start planning your most memorable trip to date!