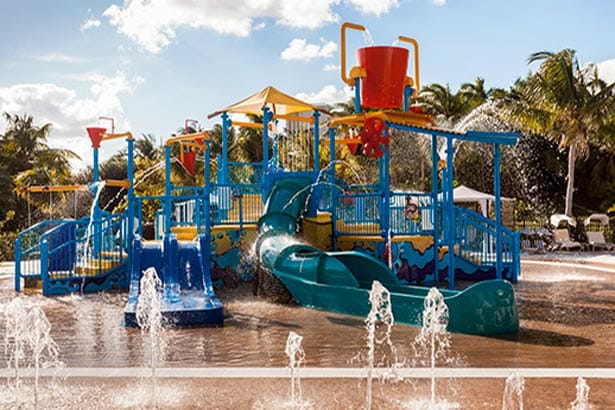 Travelers who have set their sights on a scenic Grand Cayman adventure are in for a treat no matter when they arrive. A trip here is a chance to embrace the best of tropical style and booking accommodations at The Residences Ritz-Carlton ensure an even more memorable and refreshing adventure! The Residences Ritz-Carlton is an experience in luxury every step of the way for guests. These inviting properties overlook stunning Seven Mile Beach and come in a versatile collection of houses and condos alike. Guests can pick and choose from north or south tower stays with homes situated along world-class golf courses too. Booking a stay here also puts our guests within reach of exciting Starfish Cay! When you're looking to cool off in style, this is the place to be.
What You'll Find at Starfish Cay
Starfish Cay is an endlessly entertaining aqua adventure zone where families can spend countless hours enjoying the refreshing fun. This stop is vibrant and colorful, providing guests with a fun place to settle in and enjoy the water or lounge alike. The zero splash entry pool is a wonderful entrance to a more interactive zone. In the zero splash area, little ones can enjoy the water fun in a safe and tranquil space. The interactive zone is suitable for older kids and comes complete with water slides and water nozzles to enjoy and explore. Visitors can enjoy getting soaked under the splash bucket too. Those who are looking to simply kick back will find there are plenty of lounge chairs to settle into poolside.
Amenities to Enjoy in Addition to Time at Starfish Cay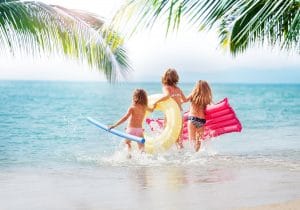 While time enjoyed at Starfish Cay during your stay at The Residences Ritz-Carlton is always exciting, accommodations here are unparalleled and vast. Whether you book a home or a condo for your getaway, guests can pair their Starfish Cay fun with top-notch amenities to enhance the getaway experience. At The Residences, these include everything from private elevator access and concierge service to a bellman too. Properties are often outfitted with designer furnishings and come with high-end electronics as well. When you're not cozied up in your inviting retreat, guests can enjoy time on the tennis courts. Designed by Nick Bollettieri, The Courts are a great place to take lessons or challenge your family and friends to a game or two. The Residences Ritz-Carlton also hosts a Greg Norman-designed golf course on-site where visitors can work on their long and short games alike. Whether you book an oceanfront property or make the most of a pet-friendly stay, reserving your place in The Residences Ritz-Carlton is a sure way to capture the fun of a Grand Cayman getaway!
Book Your Stay at The Residences Today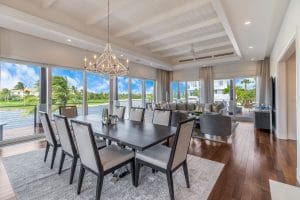 There's never been a better time to make your way to Grand Cayman and enjoy a well-deserved vacation. Browse our properties at The Residences Ritz-Carlton today and book your stay with easy access to Starfish Cay as well as a variety of added luxurious amenities. We can't wait to see you here soon!