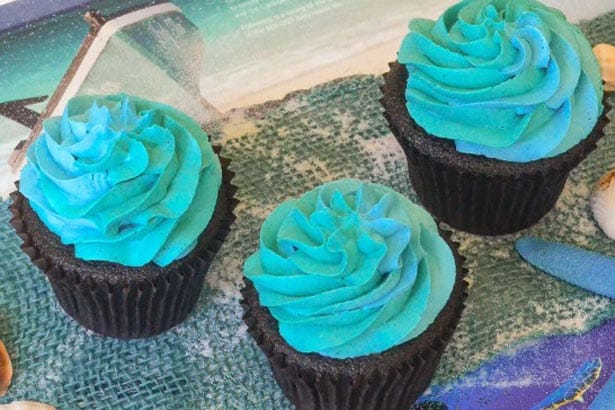 Blue Iguana Chocolate Cupcakes
These scrumptious chocolate cupcakes capped with a cloud of blue buttercream frosting are a guest favorite from the Ritz-Carlton's Community Footprints initiative supporting the Blue Iguana Recovery Program at Queen Elizabeth II Botanic Park.
Chocolate Cupcakes
9 oz / 250 g Water
2 oz / 54 g Cocoa Powder
9 1/2oz /265 g Sour Cream
6 3/4oz / 190 g Butter
17 3/4oz / 490 g Brown Sugar
5 ea / 230 g Eggs
2 tsp / 6 g Vanilla
1 tsp / 2 g Coffee Ext
9 oz / 250 g AP Flour
1 tbsp / 12 g Baking Soda
Cream butter and sugar together with paddle. Scrape bowl and continue creaming until light and fully combined. Heat water and cocoa powder to near boil, whisk in sour cream. Add eggs 1 by 1 to the butter and sugar, beating to combine thoroughly before each egg. Slowly add the hot water, cocoa, sour cream mixture to the mixing bowl. Scrape the bottom of the bowl and mix until just combined. Combine and sift all the dry ingredients. Carefully add the dry ingredients to the mixture, just until combined. Scoop into desired muffin cups. Bake at 350°F, time depends on size of cupcakes. Cake tester inserted in middle of cupcake should come out clean when finished.
Buttercream
8 oz / 225 g Sugar
4 each Egg Whites
1/2 tsp Salt
16 oz / 454 g Butter, soft
1 tbsp Vanilla Extract
Whip whites and salt to firm peaks. Boil sugar with enough water to make wet until 118°C. Carefully pour hot sugar into the whipping whites. Let cool while continuing to whip to just above room temperature. Add room temperature butter in 3 sections, scrape bowl after each addition. Continue to whip until fluffy. Color as desired with liquid food coloring.