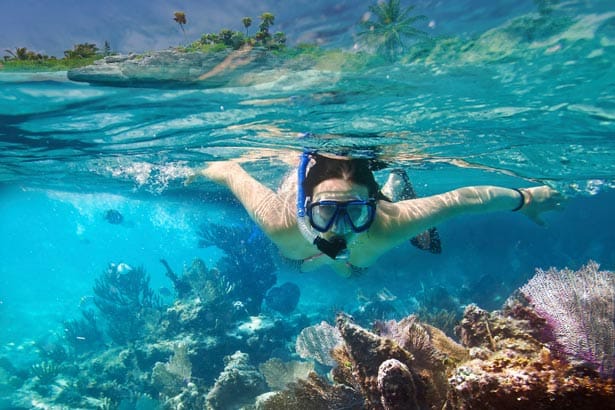 In other parts of the world, chill breezes may be starting to blow and leaves are scattering…but here in the Caribbean paradise of Grand Cayman Island, the only fall breezes are warm tropical Tradewinds!
With so much sun and fun to share, it's no wonder that autumn heralds the start of the Island's most popular season. As it does much of the year, temperatures hover in the mid-80s during the day, but by November rain drops are rare, and beautiful sun-filled days are the norm. What better time to get away for a refreshing, rejuvenating Island vacation?
Whatever your tropical holiday dreams are made of, you'll find them fulfilled at The Ritz-Carlton Grand Cayman. Tennis? Check. The Ritz-Carlton's incredible tennis center, The Courts by Nick Bolletieri offers a full complement of programming for all ages and abilities, including terrific Adult Beginner Tennis instruction and calorie-torching Cardio Tennis that seems like too much fun to be exercise. Snorkeling, boating, and watersports? Of course…it's in our DNA. Whether you prefer private or group excursions, we offer every opportunity to enjoy the Caribbean Sea. The resort also provides guests with complimentary use of snorkel gear, water trikes, kayaks, floating rafts and water hammocks—plus snorkeling lessons to ensure you are comfortable in the water and ready to go exploring on your own.
In addition to the usual Caribbean attractions of sun, sand and surf, November also brings Grand Cayman's favorite annual festival, Pirates Week. From parades, music and street fairs to a full-scale, costumed pirate "invasion" by sea, you'll find countless opportunities to shiver your timbers, batten down the hatches and heave ho! Read on for more details.
And in case you're worried about missing your favorite mainland holidays…well, don't. Spooktacular fun abounds during Halloween weekend, and a traditional feast with all the trimmings awaits for Thanksgiving. From an elegant dinner in the Ritz-Carlton ballroom to a gourmet masterpiece at Blue by Eric Rippert or a family friendly feast in Seven, we have all the bases covered. Or let us bring the festivities to you, with a fabulous home-style meal delivered straight to your Residence. Delicious and best of all, no cooking or clean up!