Setting your sights on a tropical escape is always something for travelers to look forward to. When you're ready to leave the stress of the daily routine behind for time surrounded by stunning shorelines, palm trees and amazing vacation moments instead, a trip to Grand Cayman is sure to inspire! Understanding where the Grand Cayman Islands are located gives adventurers even more reasons to get excited and puts them well within reach of unforgettable moments with every booking.
Access our complimentary Vacation Guide for the inside scoop on all the other things to do and see on the islands. It's a great resource when planning your trip!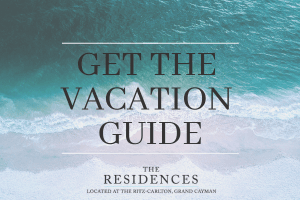 Where Are The Grand Cayman Islands Located
Grand Cayman is the largest of three vibrant islands that make up the Cayman Islands in total. In addition to Grand Cayman, travelers will find this archipelago includes Little Cayman and Cayman Brac. The islands are located approximately 272 miles south of Cuba in the western Caribbean waters. The capital George Town is located on Grand Cayman and is a particularly popular stop among travelers year-round. Grand Cayman hosts around 76 square miles of terrain in total and is 22 miles long and 4 miles wide. This low-lying island's highest point is a mere 60 feet above sea level, giving visitors a chance to truly immerse themselves in the island atmosphere starting the moment they arrive! When you take time to enjoy a getaway to Grand Cayman, you're a mere 272 miles northwest of Jamaica and 450 miles away, you would find yourself in Miami, Florida. Grand Cayman is known for its reef-protected lagoon called the North Sound which is easy to identify as it sprawls across 35 square miles.
Easy Traveling Between the Islands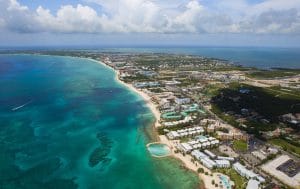 Getting to Grand Cayman is simple thanks to the fact that international flights run daily to Own Roberts International Airport. Many airlines serving Grand Cayman directly originate from the United States, London, Toronto, and Nassau alike. Just a quick flight and you'll be on your way to tropical relaxation in no time when Grand Cayman is your final destination.
What to Expect When it Comes to Grand Cayman Island Weather
Grand Cayman's Caribbean water location means travelers can count on relatively stable temperatures year-round. It's rare for weather temperatures to drop below 70 degrees Fahrenheit here or to rise well above 90 degrees Fahrenheit. While the average temperature in the summer lingers around 86 degrees Fahrenheit, winter temperatures settle in around 78 degrees.
Population Information
Once travelers find their way to Grand Cayman, they'll join a Cayman Islands population of around 65,000 year-round residents. Those who call the Cayman Islands home hail from across the map including the Philippines, Jamaica, Canada, the U.S., South Africa, and the United Kingdom alike. The Cayman Island are a British Overseas Territory and the official language is English.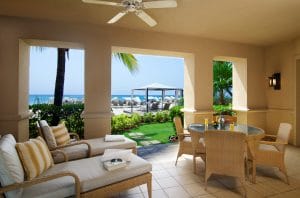 Book Your Stay in Grand Cayman Today
When you're ready to turn travel plans to Grand Cayman into a reality, make sure your accommodations are as luxurious as the island experience by booking a stay at The Residences, located at the Ritz-Carlton. Situated on stunning Seven Mile Beach, these accommodations offer guests a five-star experience with every booking and the unsurpassed views to match. Reach out to learn more today. Book our Cayman Island pet friendly rentals here.