The Ritz-Carlton offers a one-of-a-kind program that allows children and adults to learn about conservation efforts and engage with the natural world around them at resorts across the globe. The Ambassadors of the Environment program in Grand Cayman is an incredible opportunity to connect with nature and get to know the local flora and fauna up close.  
Read on for more information about the program. For more help planning your beach vacation, request a free copy of our Vacation Guide!  
What Is the Ambassadors of the Environment Program? 
The Ambassadors of the Environment is an educational program offered by the Ritz-Carlton in various locations across the world. Jean-Michael Cousteau's Ocean Futures Society developed the program in partnership with the Ritz-Carlton as an attempt to encourage children and adults to connect with the environment around them, learn to appreciate the beauty of nature, and work to preserve its magnificence.  
3 of the Best Reasons to Embark on an Adventure with Ambassadors of the Environment 
1. It's a Wonderful Opportunity to Bond with Your Kids
If you're looking for kid-friendly activities to include in your Grand Cayman vacation, then look no further than the Ambassadors of the Environment program. Not only does it offer countless educational opportunities, but it also offers unparalleled fun and adventure! Go on a glass-bottom boat expedition. Paddle out on a kayaking excursion. Learn about the local coral reefs.  
2. It's an Amazing Learning Experience for All Ages
Children and adults alike will have the time of their lives through this program. On various adventures, you'll have the chance to witness the island's inhabitants ranging from blue iguanas and sea turtles to stingrays and dinosaurs! They also offer exciting opportunities such as nighttime snorkeling and shipwreck exploration.  
3. It's the Perfect Way to Combine Adventure with Conservation Efforts
Through personal experience, one-on-one connection, and hands-on learning, both you and your kids will leave with a newfound understanding of the environment and why it's so important to protect it. Respect for nature comes from first-hand experience. You'll have the chance to learn about the best sustainability practices, ethical vacations, and eco-friendly values.  
Stay at The Residences Located at the Ritz-Carlton, Grand Cayman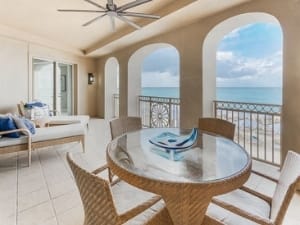 Are you ready to embark on an adventure of a lifetime with the Ambassadors of the Environment Program in Grand Cayman? Then book your Caribbean getaway today! The Residences Located at the Ritz-Carlton, Grand Cayman, has everything you need for the vacation of a lifetime. With incredible views overlooking white beaches, dazzling blue waters, and colorful gardens, you will never want to leave our premier properties of the Cayman Islands. Browse our properties and book today!