You're thinking of bringing the kids on vacation this year, and you would love it to be somewhere tropical. You dream of sticking your toes in the sand with a tropical drink in your hand, but is Grand Cayman kid-friendly enough? The Residences Seven Mile Beach in Grand Cayman has plenty of activities for all ages, so let's start planning your vacation to the Cayman Islands with kids. Get the inside scoop on all the best things to see and do on the island when you access our Vacation Guide! 
---
6 of the Most Fun Activities to Do with Children in Grand Cayman
1. Starfish Cay
Starfish Cay is a kid's dream! Located right at The Residences Seven Mile Beach in Grand Cayman, this pool was made with families in mind. The zero-entry splash pool is shallow, so your children can splash around and explore the colorful oasis. Water blasters, timed water buckets, and winding water slides will keep your kids busy for hours. Don't worry, parents! There are poolside food and beverage services for you. 
Did you know There's an entire beach known for being home to the red cushion sea star? It's called Starfish Point, and it's another great place to visit with your kids.  
2. Jean-Michel Cousteau's Ambassadors of the Environment
Do you want your kids to learn something while you're on vacation? They'll be entertained and learn a ton with the Jean-Michel Cousteau's Ambassadors of the Environment program! Each session invites children to explore our island's natural environment with exciting activities. They can experience everything from adventures in the mangroves to underwater discoveries that are sure to become lifelong memories. 
3. Get in the Water
Of course, Grand Cayman is world-renowned for water sports of all kinds, and most can be enjoyed by the whole family. Get a few complimentary snorkeling tips from the staff at the hotel and explore the crystal-clear waters of Seven Mile Beach. The resort also provides guests with complimentary use of water trikes, kayaks, floating rafts, and water hammocks. What better way to laze away a summer day? 
4. See the Stingrays
Have a once-in-a-lifetime experience at Stingray City! Get into the shallow water with snorkel gear and be prepared to be amazed. Stingrays come right up and swim around you! There are many different tours you can take, and our concierge is more than happy to set you up with the right one for you and your family. 
5. Go Yachting
Give your family the perfect day when you charter a yacht! Many of the charter options come with a chef on board, and there are plenty of activities they can help you plan. You can anchor in a secret cove and swim right off the boat. Dad can cast his fishing line and mom can lay out and tan as the kids take in the sights and sounds of the Caribbean. 
6. Visit the Cayman Turtle Centre
If you have always dreamed of swimming with sea turtles, then you'll want to add a visit to the Cayman Turtle Centre to your Grand Cayman itinerary. Encounter turtles while diving with colorful marine life in their gorgeous lagoon. They also host a variety of animal feedings where you and the kids can witness barracudas, nurse sharks, sandbar sharks, turtles, and crocs eating!  
---
Book Your Family Vacation Today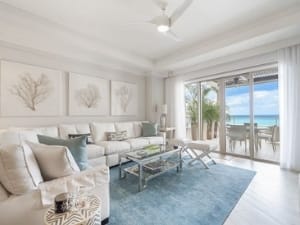 Are you ready to make some memories with your family? Give them the trip of a lifetime with The Residences Seven Mile Beach on Grand Cayman! Our Residences vary in size, so we know we have the perfect one for you and your family. Some even sleep up to 14 people! With multiple bedrooms, state-of-the-art kitchens, and beautiful beach views, you'll want to come back to the Cayman Islands with your kids time and time again. Browse our Residences to start planning your stay!