During your Grand Cayman getaway, you'll most likely spend countless hours on the beach. Our resort is situated right on Seven Mile Beach for your convenience, but sometimes, it's nice to switch it up during your vacation. If you want a secluded beach experience, head to Barker's National Park. The views are beautiful and there is rarely anyone there, especially during the week. Learn more about all the things to do and see in the Cayman Islands when you access our complimentary Vacation Guide!
5 of the Best Ways to Enjoy Barker's National Park
1. Relax
Of course, one of the main things to do at a beach is to just relax. Because this beach is rarely crowded, it's easy to enjoy some quiet time. Bring that book you've been dying to read and have a little "me time." Listen to the surf on the sand as you lay out and work on your tan. Then, take a dip to cool down when the Cayman sun gets too hot!
2. Watch the Birds
Barker's National Park is an excellent place to go birdwatching. If you love wildlife or are an avid birdwatcher, you'll love it here! Walk around to see species like herons, egrets, and more. Other great places to go bird watching on the island are Queen Elizabeth II Botanic Park and Governor Gore's Bird Sanctuary.
3. Go Kitesurfing (Or Watch)
The beach at Barker's National Park is one of the top spots for kitesurfing! Inexperienced kitesurfers can take lessons with Kitesurf Cayman and more experienced adventurers can rent gear from them. If this adrenaline-inducing hobby isn't your style, watching is always fun. You can see the surfers speed across the waves as you enjoy yourself on the beach.
4. Go Snorkeling
Bring your snorkeling gear and see what lies below the surface. Strong swimmers prefer to go out decently far to get to the deeper areas, but this is still a popular snorkeling spot.
5. Have a Picnic
Whether you're looking for some family time or a romantic spot with your sweetheart, Barker's National Park is an excellent place for a picnic. Spread a blanket out on the sand at this secluded beach and enjoy some Caymanian specialties under the sun. Vacation is all about making memories, and this will certainly be one.
Getting There
Because of its seclusion, Barker's National Park is a bit of a challenge to get to. The road is quite bumpy, so we recommend a four-wheel drive vehicle such as a jeep. The park itself is not advertised, so head on the road that has signage for Pappagallo's restaurant. This restaurant is just outside of the park entrance, so you can easily find your way from there.
Book Your Getaway Today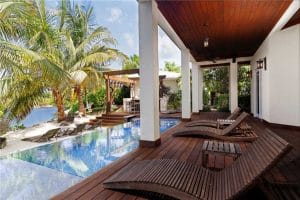 See beautiful sights like Baker's National Park and more during your getaway to Grand Cayman. When you stay at The Residences Located at the Ritz-Carlton, Grand Cayman, you'll have access to a private concierge that will help you plan your trip. Browse our luxurious Residences to start planning your getaway. We can't wait to host you!