A Grand Cayman getaway can be the perfect balance of relaxation and adventure. Take advantage of our concierge services and local expertise to experience our island to the fullest. One of our favorite ways to see the beauty of our island is on horseback! Here is everything you need to know about horseback riding in Grand Cayman. Discover an inside look at all the things to do and see on the island when you access our complimentary Vacation Guide!
4 of the Best Places for Horseback Riding in Grand Cayman
1. Pampered Ponies
Pampered Ponies is an excellent option for people of all ages to enjoy horseback riding in Grand Cayman! Choose to saddle up in the morning, afternoon, at sunset, or in the moonlight. You'll get to ride along gorgeous trails and secluded beaches. There is no experience necessary, and you can even take a special swim ride. There's something magical about swimming through the bright blue water on horseback.
2. Spirit of the West
Spirit of the West specializes in small horseback riding tours. These intimate tours ensure that your guide will personalize each tour to fit your needs. Their group rides start at ages 8+ and their swim rides start at ages 14+. However, private tours are more flexible, so have our concierge contact them if you want to bring the kids! They offer beach rides, moonlight rides, swim rides, and even cater to weddings.
3. Coral Stone Stables
Coral Stone Stables has been offering Grand Cayman horseback riding since 1996. More than 20 years later, it's still going strong! Whether you are an experienced rider or have never even been near a horse before, you'll be in good hands. Walk along the shoreline or ride bareback through the warm water of the sea.
4. Cayman Horse Riding
Nicki Eldemire grew up riding horses. By the age of 13, she owned her first pony! As she got older, she spent her weekends riding horses on the beach with her friends. She realized that this was an excellent business idea and started offering local tours with Cayman Horse Riding! Now, she is one of the best tour guides and entrepreneurs on the island! Let her take you to some of her favorite spots only a local would know about.
Book the Vacation of a Lifetime Today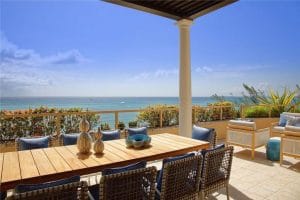 The Cayman Islands are truly a vacation destination like no other. There are countless activities and opportunities to make lasting memories, and we're here to help. Our concierge can assist you in picking the best places to go horseback riding in Grand Cayman, and their local knowledge is always exceptional. Stay in luxury at The Residences Located at The Ritz-Carlton, Grand Cayman. Each of our private Residences is outfitted with elegant designer furnishings and professional grade appliances. It's the perfect home base for your adventures! Browse our Residences and start planning today!