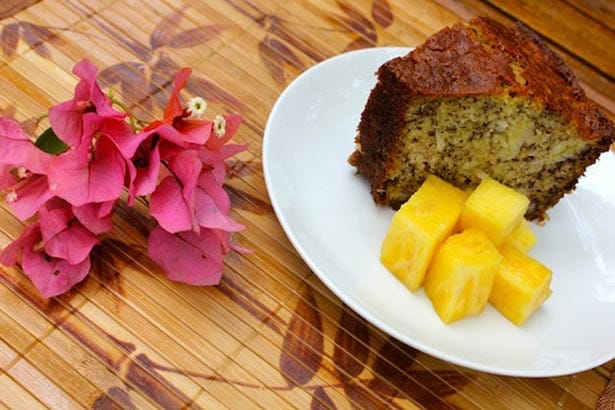 Coconut Banana Bread
From Miss Cleo's Cayman Kitchen
Enjoy this sweet taste of the tropical Cayman Islands featuring two of our favorite ingredients, coconut and bananas.
1 cup butter
2 cups sugar
4 large eggs, beaten
2 cups mashed ripe bananas
2-1/4 cups flour
1 tsp salt
2 tsp baking soda
1/4 tsp nutmeg
1 cup grated fresh coconut
Preheat oven to 350 degrees. Lightly grease and flour a bundt pan. In large mixing bowl, cream the butter and sugar until smooth, then slowly add eggs and bananas. In a small bowl, combine the remaining ingredients. Add to the banana mixture. Mix until batter is blended making sure not to over beat. Spoon batter into prepared pan and bake 40-45 minutes or until toothpick comes out clean. Cool for 5 minutes and transfer to wire rack.
Photo courtesy of The Deep Dish Cayman.