Whether your kids have the week off from school or you're just looking for a springtime getaway, Grand Cayman is the place to be. While the rest of the world is waking up from its winter slumber, our island is completely green. With warm weather and gorgeous beaches, you'll want to make spring break on Grand Cayman a yearly tradition! Start planning your island getaway today when you access our complimentary Vacation Guide. Inside, you'll find a list of things to do and see on the island!
3 Steps to Have the Best Spring Break on Grand Cayman
Step 1: Book Your Stay at The Residences Located at The Ritz-Carlton, Grand Cayman
Your accommodations are arguably the most important part of any getaway. They will be your home base for all your adventures! Our luxury condos and villas are outfitted with designer decor, have multiple bedrooms, and come complete with stunning balconies and porches. Wake up to ocean views and enjoy your coffee on your private porch before heading out for the day. Plus, our guests have access to all of the amenities and activities at The Ritz-Carlton, Grand Cayman. From pools to watersports, we have everything you need to make your getaway memorable. 
Step 2: Plan Your Activities
There's so much to do in the Cayman Islands! Whether you're looking for serenity or adventure, you'll find it here. You can check out our Things to Do Page to get some ideas, and our concierge is always a great resource. If you're looking to destress, we highly recommend scheduling a spa treatment at our onsite spa and plenty of time on the beach. Adventurers of all ages will love embarking on a tour or excursion with our exclusive Jean-Michel Cousteau's Ambassadors of the Environment. Or, the entire family will love spending the day on a yacht charter. 
Step 3: Pick Some Restaurants
Oftentimes, local cuisine is the window into the soul of a community. There are plenty of restaurants to visit, and some of them are even located right at our resort. Treat yourself to a cocktail while the kids munch on chicken tenders on the beach from Bar Jack! From fine dining to beachside shacks, you'll have plenty of culinary options to enjoy. 
Our local cuisine usually consists of coconut, plantains, conch, cassava, fresh fish, and yams. If you'd like to try it out, try a spot like Calypso Grill. Our island is filled with all types of cuisine as well– ask our concierge to give you a recommendation! 
Book Your Spring Break Getaway Today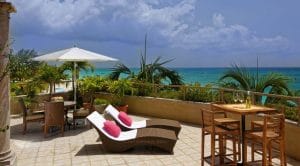 Spring break on Grand Cayman is sure to be unforgettable, especially if you stay at The Residences Located at The Ritz-Carlton, Grand Cayman. You'll love having an entire condo or villa to spread out in, and the amenities can't be beaten. Our Residences overlook the famous Seven Mile Beach, and you can walk right out of our resort and onto the sand! Browse our properties to pick your favorite– they vary in view, size, and floor. We can't wait to see you this spring!