You know you want to travel to somewhere warm and tropical, but where exactly should you go? Choosing between Grand Cayman vs the Bahamas is a tough decision, but we are here to help. You deserve a vacation to paradise; imagine waking up to swaying palms and warm sun. Here is what you need to know about some of the top factors to choose your trip. Check out our Grand Cayman Vacation Guide for the inside scoop on what our island has to offer!
Choosing Grand Cayman vs the Bahamas
When you are trying to decide where to stay in or around the Caribbean, you have to consider what you are looking for. From landscapes to attractions, each island has something different to offer.
The Beaches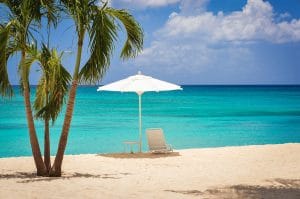 If you're deciding between Grand Cayman vs the Bahamas, the beaches won't be the tiebreaker. Both are gorgeous! You can expect soft sand and clear, blue water no matter what island you are on. If you are looking for convenience, The Residences Seven Mile Beach in Grand Cayman is located right on the water. You can even walk out of your first-floor luxury suite right onto the sand!
Diving Opportunities
The Cayman Islands offer some of the best snorkeling and diving opportunities in the world. Lovers of the underwater world flock here to discover countless species of sea creatures and to see the gorgeous coral reefs below the clear water. There are even shipwrecks to explore! Many of these dive sites can easily be accessed right from the shore or on a short boat ride. The Bahamas have some great dive sites as well, however, the 700 islands that the Bahamas are made up of make travel time longer depending on where you are staying.
Nightlife
If you are staying at The Residences Seven Mile Beach in Grand Cayman, you'll have multiple bars and restaurants right at your fingertips. If you'd like to travel a little, other great beach bars and nightlife in George Town are just moments away! Nightlife here ranges from energetic clubs to cocktail lounges to salsa dancing. You never know what you'll get into!
If you're looking for nightlife in the Bahamas, your best bet is to go to Nassau. You will find quite a bit of clubs here, but not as much variety as you will find in Grand Cayman. You'll be expected to dress in club attire, too.
Cuisine
The cuisine of the Cayman Islands and Bahamas are very similar. The seafood in both areas is always fresh and delicious, and you'll find conch on the menu at nearly every eatery. Classic Cayman cuisine consists of dishes like coconut shrimp, fish fritters, spicy beef or chicken, and fish fry. Typical dishes in the Bahamas are peas 'n' rice, Johnnycake, and conch fritters. If you aren't ready to indulge in the cuisine typical of these cultures, there are other great options for you. If you decide on Grand Cayman, we recommend Blue by Eric Ripert. This fine dining establishment is the Caribbean's only AAA Five Diamond restaurant and has an incredible tasting menu made from local ingredients.
Did You Choose?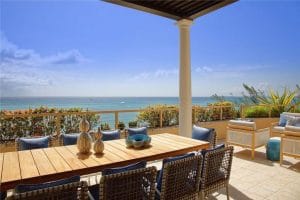 Have you made your decision about Grand Cayman vs the Bahamas? We might be able to sway you. Take a look at The Residences Seven Mile Beach in Grand Cayman. Our luxury condo rentals were built right on the site of The Ritz-Carlton Grand Cayman, and you have complete access to all the amenities and activities there. Browse The Residences and start planning your stay today!