The Cayman Islands are an absolute paradise. Once you visit, you'll want to come back over and over again. Blue skies and sparkling waters surround the pristine white sands, beckoning you to come out and explore. When you stay at The Residences Seven Mile Beach in Grand Cayman, see our oasis from another perspective when you go sailing in the Cayman Islands. These memories will last a lifetime!
When you're planning a vacation, it always helps to have an expert in the area. We're here to help! Access our complimentary Vacation Guide for everything you need to know about the islands. Whether you are looking for companies to take you sailing in the Cayman Islands or the best restaurants to indulge in, we have you covered! Now you can spend less time researching and more time on what's important: making memories.
4 of the Best Companies for Sailing in the Cayman Islands
1. Sail with Friends
Sail with Friends in Grand Cayman is run by Patrick and Alice, two experts that have been exploring the waters around our islands for more than 30 years. Their sail boat tours will take you wherever you want to go aboard a 38-foot Lagoon Catamaran. Enjoy spacious decks, a dining area, and plenty of room to spread out and relax! Choose from full day or half day charters, then get out on the water.
2. Red Sail Grand Cayman
Red Sail Grand Cayman has countless excursions to choose from. If there's something you want to do around the islands, they can help you do it! They offer everything from full-service dive and watersports services to relaxing tours. One of their most popular is the Red Sail Sunset Cruise of the Cayman Islands. Hop on the 65' catamaran to see gorgeous hues of pink and orange across the sky while an expert chef prepares you dinner right on the boat!
3. Sail Cayman
Sail Cayman keeps the happiness of its passengers in mind at all times. Each excursion they offer has been designed to show you the best of the Caribbean. Its founder, Neil Galway, grew up sailing around Ireland before following his dream to move to the paradise of Grand Cayman. Now, it is his passion to give incredible tours all around the islands!
4. Point Blue Sailing
Point Blue Sailing got its name because they want you to be able to "point" them where you want to go. Customize your entire day or choose one of their pre-planned excursions. Whether you're looking for an adventure like snorkeling or a lazy few hours on the boat, they have you covered. Lunch and dinner options are available, and they can even stock the boat with what you need for the trip of a lifetime.
Book Your Getaway Today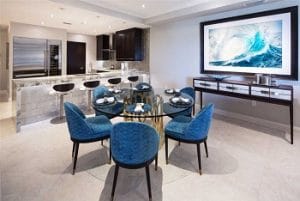 You know that a vacation to the Cayman Islands will be centered around making memories. Whether it's sailing the Cayman Islands or relaxing in the sand, this paradise will give you a getaway unlike any other. Planning the perfect trip starts with choosing the perfect accommodations, and we know exactly where you should stay. The Residences Seven Mile Beach in Grand Cayman has stunning luxury condos and house rentals the whole family will love. Choose based on size and view preference, then book your stay! Our outstanding resort amenities include in-room dining, dial-a-chef, housekeeping, pre-arrival groceries, 24-hour concierge services, butler services, and more. We look forward to hosting you!