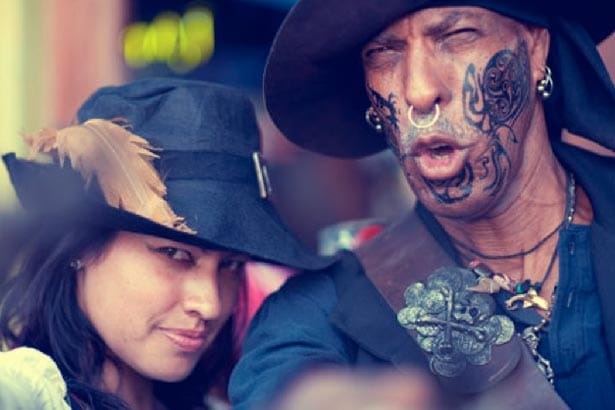 Photo courtesy of piratesweekfestival.com
Pirates Week—Cayman Islands' National Festival
You have to love the Cayman Islands. After all, where else on earth would a nation's biggest and most popular annual festival involve fireworks, frilly shirts and a mock invasion by sea?! Arrhhh mateys…welcome to Pirates Week on Grand Cayman! Considered the Cayman Islands' National Festival, Pirates Week 2014 runs from November 6th to 16th. Over the past 34 years it has become the country's largest celebration, drawing more 35,000 enthusiastic participants. It now encompasses more than 30 different events spanning 11 days.
The festivities kick-off with a bang on Friday with a street party, fireworks and the crowning of the Festival Queen. On Saturday, pirates invade the Island aboard two old-time sailing vessels, and after making a "surprise" landing at George Town harbour, capture the Island's Governor! Thousands of people line the streets to watch the spectacle and its all good-natured fun with a new twist every year. Grown-ups, kids, families…everyone loves Pirates Week. It's the only event of its kind in the Caribbean region.
The festival continues all week with parades, costume contests, music, street dancing, competitions, Kids Day, wonderful local food and drink, Cayman Islands Heritage Days, fireworks and more!
For more information, visit www.piratesweekfestival.com and download a complete schedule of events for the entire 11-day festival.