We think of food as a window into the culture of a community. When you try a new dish, you're experiencing something special. The Cayman Islands have a unique cuisine that you'll want to try during your stay at The Residences Located at The Ritz-Carlton, Grand Cayman. The easiest way is to attend Taste of Cayman! This day-long festival brings more than 5,000 people to the area to try some of our island's best dishes. 
Start planning your vacation today when you access our complimentary Vacation Guide. Inside, you'll find a list of all the best things to do and see on the island. 
What Is Taste of Cayman?
The Taste of Cayman is our island's annual food and drink festival. Thousands of locals and visitors gather together to celebrate our island's cuisine. More than 45 of Cayman's best restaurants promote a wide variety of dishes to festival-goers, and the number grows every year!
Go from stall to stall to sample your favorite restaurant's food and try some new, delicious bites! This is the perfect opportunity to find your new favorite eatery or try something you might not otherwise. 
When Is Taste of Cayman?
Taste of Cayman comes to our island every April! Make sure you check the website for the exact date of the upcoming year and to purchase your tickets. 
Getting Tickets
You can easily purchase tickets for the festival online. To fully immerse yourself in Taste of Cayman, we recommend getting VIP tickets. 
The Cuisine
The cuisine exhibited at the Taste of Cayman varies, so you can try all sorts of amazing dishes. Many of the restaurants that participate are repeats, but there are always new ones to try. Even Seven from The Ritz-Carlton, Grand Cayman, is usually there! 
The Entertainment
Taste of Cayman is more than just a tasting festival! Throughout the day, some of the top chefs and mixologists on our island participate in fun competitions. Festival-goers can enjoy samples from the participating restaurants and see if they agree with the winner! Plus, there is live music and dancing to keep you entertained. 
Some of our favorite attractions are the kitchen demonstrations. Watch as our island's culinary experts cook up local and international dishes. You'll leave inspired and wanting to cook! 
Book Your Food-Filled Getaway Today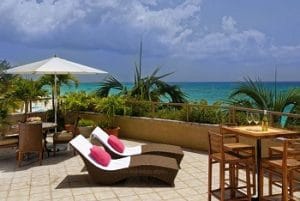 If you're planning on attending Taste of Cayman, you'll need a place to stay. The Residences Located at The Ritz-Carlton, Grand Cayman, offers luxury condo and villa rentals right at The Ritz-Carlton, Grand Cayman, resort. You'll have access to the resort's incredible amenities and activities plus our private doorman, concierge service, and more. Our Residences come complete with multiple bedrooms, designer decor, and state of the art kitchens you won't find anywhere else on the island. Browse our Residences and book your getaway today!