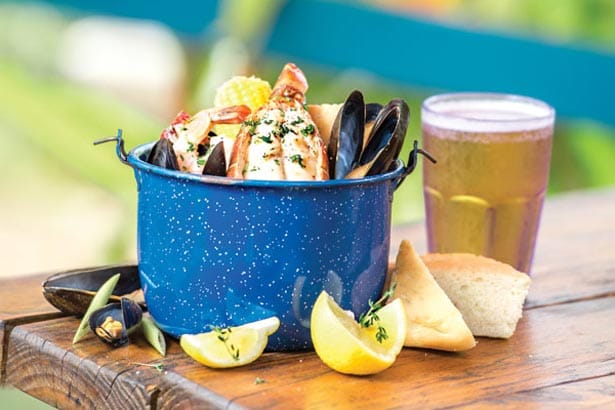 With its delicious coconut-infused broth, this savory one-pot steamed seafood dinner is a delightful taste of the Caribbean you can easily make at home.
Caribbean Steam Pot
10-11 mussels
7 shrimp
2 lobster tails, butterflied
2 tablespoons vegetable oil
1/4 onion, chopped
1 tablespoon garlic, finely chopped
1 teaspoon picked thyme leaves, whole
4 ounces coconut broth
Baby red potatoes, skinned and boiled
Corn on the cob, boiled
Fresh focaccia bread for serving
Coconut Broth
1 can coconut milk
1 inch lemongrass
1 teaspoon cornstarch
Salt to taste
1 tablespoon sugar
1/4 jalapeño pepper
Heat the oil in a large frying pan to medium heat. Add the lobster tails to lightly sear then add the chopped onion, garlic and thyme. Sauté for a minute, then add the seasoning water. Cook covered for 3 minutes. Next, add the shrimp and coconut broth and cook uncovered for a further minute. Finally, add the mussels and cook until the mussels open. Discard any unopened mussels.
To serve, place the boiled baby red skinned potatoes in the bottom of the serving pot, scoop all the seafood overtop, with the lobster being the last to go in. Crown with the corn and freshly baked focaccia.
Courtesy of chef Orrel "Rambo" Williams, Duke's Seafood & Rib Shack and Flava Cayman magazine
Photo by Chris Court