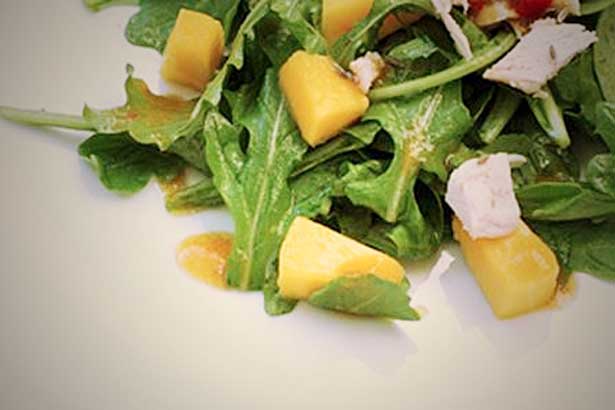 The Ritz-Carlton Grand Cayman's Insalata Arugula with Local Mango
This vibrant and healthy salad of spicy arugula, mixed greens, fresh local mango, avocado, candied pistachios and pomegranate vinaigrette is as gorgeous to look at as it is to eat. Make this for a summer luncheon or dinner and let yourself be transported back to the Islands! Add grilled shrimp—or your favorite fish or seafood—to make a complete light meal.
Serves 4 people
1 pound washed and picked baby arugula
1/2 pound your favourite mixed greens
2 local mangos, shaved
1 medium avocado, diced
1 pomegranate, seeds removed
100 ml pomegranate concentrate
1 local lemon
250 ml extra virgin olive oil
3 tablespoons honey
100 g raw pistachios
2 tablespoons granulated sugar
4 tablespoons water
salt and pepper to taste
Pomegrante Vinegrette. In a bowl whisk pomegranate concentrate and honey together, slowly drizzle in olive oil to emulsify the dressing. Squeeze the juice from a half lemon, season with salt and pepper to taste.
Candied Pistachios. Heat a medium sized pan on the stovetop, bring the water and sugar to a simmer and reduce sugar until syrup consistency. Keep on low heat to avoid burning the sugar. Add in pistachios to sugar syrup and keep cooking until the sugar crystalizes to the pistachios. Season with salt and cool on a lined baking sheet.
Insalata Arugula. Toss arugula and mixed greens together with pomegranate vinaigrette and season with salt and pepper to taste. Garnish salad with pomegranate seeds, shaved local mango, avocado and candied pistachios.
Photo courtesy of Giallo Zafferano