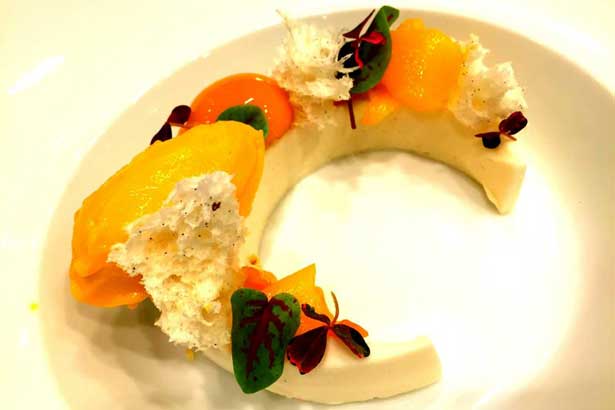 The Ritz-Carlton Local Goat Cheese Panna Cotta with Local Cayman Pickled Mango
Sweet and savory combine in this deliciously creative dessert inspired by the tropical bounty of the Cayman Islands.
Goat Cheese Panna Cotta
220 grams heavy cream
85 grams sugar
3 gelatin sheets
225 grams local goat cheese*
Bloom gelatin sheets in ice water, set aside. Bring cream and sugar to simmer, dissolve gelatin sheets in mixture. Temper this mixture into the cheese, in 2-3 additions. Pour into prepared loaf pan**, chill overnight. Unmold, cut into 1 1/2″ x 4″ portions
*Use local goat cheese when it is available. **To prepare pan, lightly spray with water, spread plastic wrap and smooth out the bottom and up the sides.
Local Cayman Pickled Mango
2 small local Cayman mangoes
40 grams sherry vinegar
20 grams rice wine vinegar
40 grams white verjus
120 grams honey
1 tsp kosher salt
2 star anise
12 grams fresh ginger
Peel mango and cut 1/2 cm thick slices, cube the mango into 1/2 cm x 1/2 cm or cut batons 1/2 cm x 3 cm. Peel and slice the ginger, place all ingredients (except mango) into a pot and bring to a simmer. Cover and allow mixture to infuse for 1 hour. Place cut mango into a flat bottom dish and pour pickling liquid over top. Cover the mango and liquid and allow to sit overnight. Use the next day, can keep for up to 7 days.
Photo courtest of The Ritz-Carlton, Grand Cayman