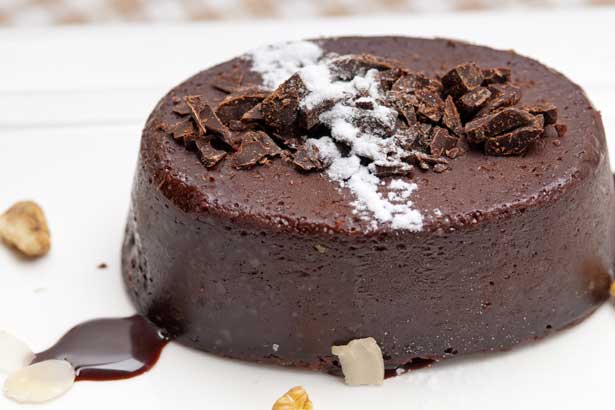 Ritz-Carlton Chocolate Bourbon Cake
1/2 cup currants or 1/2 cup raisins
3 ounces Bourbon
3 ounces water
1 lb semisweet baking chocolate, melted
8 ounces unsalted butter, melted
6 egg yolks
6 egg whites
1 cup confectioners' sugar
1 cup granulated sugar
1 cup cake flour, sifted
3/4 cup walnut pieces
1/4 teaspoon vanilla extract
1/4 teaspoon almond extract
8 ounces semisweet chocolate
4 ounces unsalted butter
Soak currants in bourbon and water overnight, or heat liquid and let currants soak for 1 hour.
Beat egg yolks and confectioners' sugar to full volume, until thick and lemon colored and mixture forms a ribbon.
In a clean bowl, with clean beaters, beat whites, gradually adding granulated sugar, to soft peaks.
Add yolks to whites and mix at medium speed. Add melted butter until incorporated.
Remove from mixer and fold in melted chocolate, walnuts, and currants (with 2 tablespoons of liquid they soaked in).
Add flavorings and fold in cake flour. Pour into a greased and floured 9-inch springform pan lined with baking parchment.
Place pan on a large sheet of heavy-duty foil wrap and shape to contour of pan at least halfway up. Bake in a water bath (a roasting pan filled halfway with water will do) at 275° about 3 to 3 1/2 hours, or until a knife poked in center is just a little moist. Don't be alarmed by crust forming on top; the top will be turned over and become the bottom.
When cake is cool, remove from pan and turn over. Melt the remaining 8 ounces of chocolate and the butter separately. Add the butter to the chocolate and mix well.
Pour over the cake, frost top and sides and refrigerate until firm.