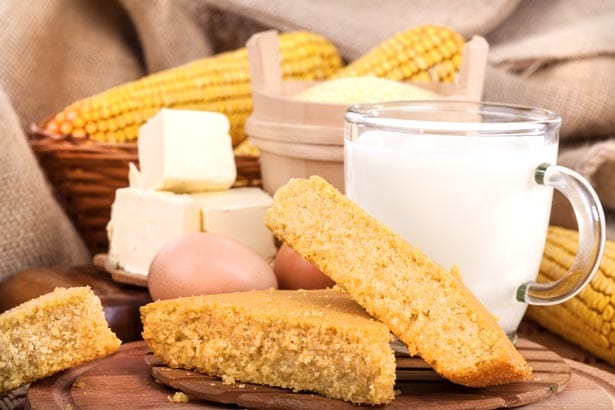 Cayman Islands Cornbread
This is a sweeter, more cake-like cornbread and has a bit of rum in it.
2 cups all-purpose flour
1 cup yellow cornmeal
1/2 cup granulated sugar
2 tablespoons baking powder
1/2 teaspoon ground cinnamon
1/4 teaspoon ground nutmeg
1/4 teaspoon salt
3/4 cup evaporated milk
3/4 cup milk
1/2 cup unsalted butter, melted and slightly cooled
2 large eggs
2 tablespoons dark rum
1 tablespoon vanilla extract
Preheat oven to 350°F. Grease a 9-inch square baking pan well. Combine flour, cornmeal, sugar, baking powder, cinnamon, nutmeg, and salt. Whisk together both types of milk, eggs, butter, rum, and vanilla in another bowl. Combine both mixtures using a wooden spoon, just enough to dampen all ingredients (it will still be a bit lumpy). Pour into prepared pan and bake until golden brown and cake tester comes out clean, about 45 minutes.