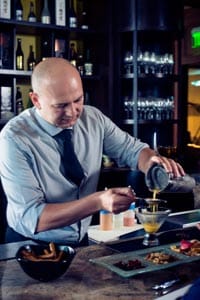 Sip on this!
When bartender extraordinaire Andreas Trattner is not performing cocktail legerdemain at The Ritz-Carlton Grand Cayman Lobby Bar, this magician of mixology is whipping, blending and shaking up cocktail concoctions for local competitions.
This year his hard work and talent paid off big-time when Trattner won the United State Bartenders' Guild World Class Cayman Finals! He will go on to represent the Island in the Global Finals in the UK later this year.
When you're visiting Grand Cayman, be sure to stop by the Lobby Bar Ritz-Carlton Grand Cayman and sample one of Andreas' prize-winning creations. In the meantime, try this exclusive recipe, and cool off with a refreshing sip of the Caymans.
2 oz Ketel One Vodka
1/2 oz orange syrup
1/4 oz Grand Marnier
Pinch of ascorbic acid
2 drops orange bitters
Serve in a martini glass and garnish with orange zest.