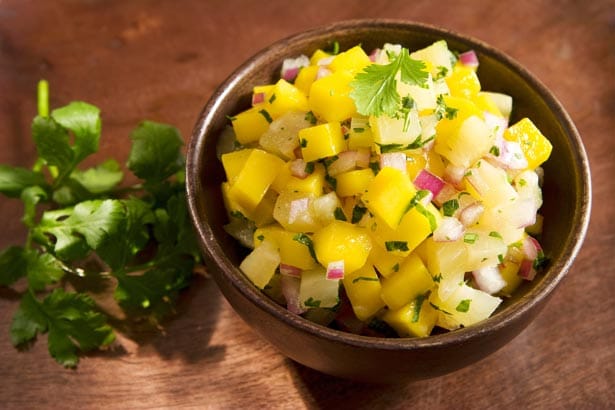 Fall may be on the way, but you can make summer last forever with this sunshiny taste of the tropical Cayman Islands. Perfect with fresh tortilla or pita chips, or try serving alongside your favorite grilled fish or seafood.
Tropical Pico de Gallo
1/2 lb Fresh Pineapple, peeled, cored, and diced fine
1/2 lb Fresh Local Mango, peeled and diced fine
1/2 lb Fresh Local Papaya, peeled, seeded, and diced fine
1/4 cup Red Onion, diced fine
1/4 cup Red Bell Pepper, diced fine
A small handful of Cilantro, roughly chopped
1/4 cup Fresh Lime or Lemon Juice
1/4 cup Pink Guava Puree
1/2 tsp. Salt
1/4 tsp. Freshly Ground Black Pepper
Combine all ingredients together in a mixing bowl. Fold to fully incorporate. Let sit at room temperature for 30 minutes before serving or refrigerate overnight for added flavor.