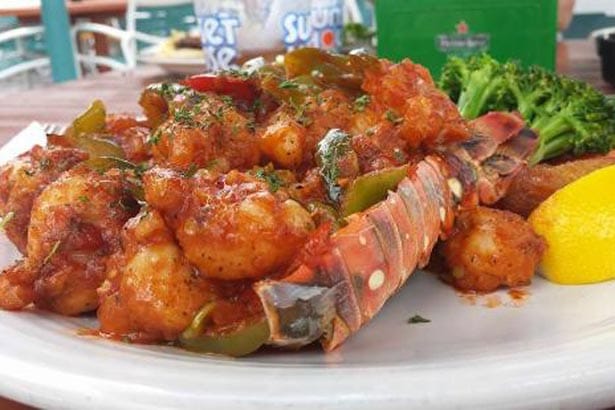 Cayman Style Lobster
Ingredients
4–6 lobsters
1/2 cup chicken stock
1/2 cup red pepper, diced
1/2 cup green pepper, diced
1/2 cup onion, diced
2 garlic cloves
1/2 scotch bonnet pepper
Salt to taste
Pepper to taste
Thyme to taste
2 teaspoons corn starch, dissolved in water
2 tablespoons olive oil or butter
Directions
Rinse lobster under cold running water. Bring water and salt to boil in a 12 quart pot. Quickly plunge lobsters into boiling water. Cover and boil for 20 minutes or until lobsters turn red. Remove lobsters and allow to cool.
Remove lobster meat from tails and claws and chop roughly.
Heat butter, or olive oil, in a large pan over low heat. Sauté onions, red, green and scotch bonnet peppers, thyme and garlic. Add salt and chicken stock to pan, then add lobster meat and sauté for 10–15 minutes. Thicken sauce with the corn starch and water mixture.