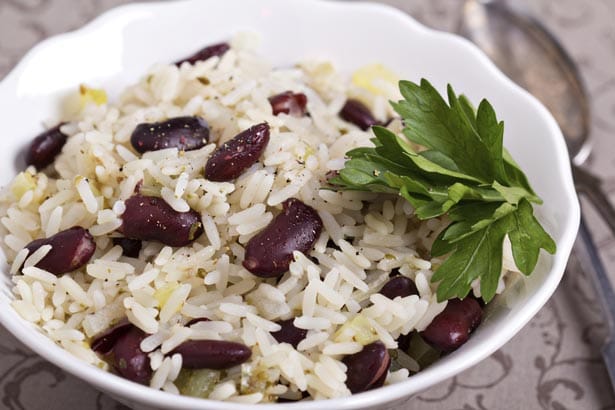 This unique Caymanian take on traditional rice and beans features a touch of sweetness from coconut milk and a hint of heat from seasoning peppers, a type of hot pepper related to the Scotch Bonnet.
Savory Rice and Beans
1 cup of kidney beans
2 cups of white rice
2 cups coconut milk
3 1/2 cups water
1/2 onion
1 seasoning pepper (native to Cayman, but related to Scotch Bonnet peppers)
1 teaspoon of dried thyme
black pepper and salt to taste
Soak the beans overnight.
Cook the beans until they are tender (about an hour). Drain the beans and save the bean water, it should be about 3 cups. You may need to add more water to get to 3 cups.
In another pot, boil previously saved bean water, salt, black pepper, thyme, onion, and seasoning pepper.
Add previously boiled beans and coconut milk and let everything come to a boil. Add rice. Make sure there is about 1/2 inch of water over the rice and beans. When the pot starts to boil again, lower the heat and let it simmer for about 20 minutes or until all of the water is absorbed.
Recipe courtesy of caymanislandsexplorer.com