Travelers that can't wait to make the most of an unforgettable adventure will find that a trip to Grand Cayman has a way of proving endlessly inspiring. This exciting and inviting vacation destination offers up access to sun, sand, and surf in abundance, as well as the potential to customize your getaway according to taste and style.
When you're not soaking up the rays from a place on sugar-white sands, Grand Cayman visitors can just as easily be spending time out on the waves, fishing, sailing, or wildlife spotting their way through a delightful day. From West Bay and Bodden Town to the North Side and George Town, Grand Cayman is a versatile vacation destination with much to offer in the way of fun and flavor too.
If you happen to be a traveler that can't wait to savor their way through a Grand Cayman stay, you'll be happy to know this locale is loved for its many pizza joints! The following are just a few of the best pizza places in Grand Cayman you're going to want to be sure to add to your must-try itinerary the next time travel plans bring you to this scenic island.

After a delicious meal and maybe a cold drink to go along with it, you'll want to explore the rest of the island! Check out our complimentary Grand Cayman Vacation Guide for the best things to do, see, and more around the Island.
Enjoy a Slice at Ragazzi
For Grand Cayman travelers who are longing for a savory slice of Italy right in the heart of the island, a meal at Ragazzi is bound to please! Located at Buckingham Square on West Bay Road along the iconic Seven Mile Beach, Ragazzi pairs an elegant setting and amazing view with the fantastic flavors of Italy that so many people long to enjoy no matter where in the world they're traveling. Owned and operated by Andi Marcher and Paolo Polloni, Ragazzi has been open on the island since 1999 and continues to captivate guests with its variety of flavors and impeccable customer service to match.
This inviting eatery is open daily between 11:30 am and 11:00 pm and offers up a convenient central beach location for guests to enjoy, complete with a colorful and charming aesthetic throughout. The wine list here is as beloved to return visitors as the pizza menu, which is served up in a wood-burning oven. Ragazzi also features a fantastic kid's menu for those dropping by with little ones and offers vegetarian, gluten-free, and vegan selections as well. The blue and white exterior and interior, complete with soaring columns, give this pizza stop a whimsical Island vibe, while the cloth-covered tables within elevating the elegance even further.
No matter when you drop by, this is a Grand Caymen pizza stop you're going to want to try! 
Find New York Style Pizza at Gino's
It's hard to think of anything more mouthwatering than a slice of authentic New York-style pizza. That's exactly what travelers can count on enjoying when they drop by Gino's Pizzeria in Grand Cayman for a slice or two! Located along Seven Mile Beach on West Bay Road, Gino's Pizzeria is a place that promises to please the palate of everyone in your traveling crew. This eatery's claim to fame is its 18-incher which is sure to impress pizza enthusiasts from near and far. In addition to a versatile pizza menu, Gino's Pizzeria serves up savory subs of the hot and cold variety as well as chicken wings, conch fritters, and specialty pizza pies upon request.
At Gino's, it's possible to order up by the slice or pie according to preference, and the restaurant serves up soft drinks, beer, and wine as well. Those who adhere to dietary restrictions will enjoy the fact that Gino's Pizzeria menu also features gluten-free crust options as well as veggie pizzas when meat-free is preferred. While indoor seating at Gino's Pizzeria is always a cozy experience, those who prefer to pair their pizza with the fresh air and view can make their way to the outdoor seating area and enjoy the fantastic flavors in good company too! Gino's Pizzeria is open from 11:00 am until 9:00 pm Sunday through Thursday and from 11:00 am until midnight on Fridays. Those who drop by on a Saturday to curb a craving can enjoy the menu options between 1:00 am and 11:00 pm. 
Make it a Beach-Chic Pizza Moment at Harbour Grille
If you find yourself around The Shoppes at Grand Harbour in George Town and you happen to be craving a beach-chic dining experience, Harbour Grille is the place to be. This eatery offers guests an extensive menu of options served up in an elegant yet welcoming dining room.
Traditional menu selections here range from chickpea current and grilled Wahoo to wood-fired flatbreads and homemade desserts. However, if you swing by on a Wednesday evening, you'll find yourself in the heart of the restaurant's delightful and delicious weekly pizza night! Those who order up a slice or two on this popular occasion can enjoy their pizza in the dining room or out on the spacious open-air patio as well. Harbour Grille is open to the dining public Tuesday through Thursday from 4:00 pm until 1:00 pm, with extended hours on Fridays and Saturdays until midnight.
On Sunday, the restaurant is open between 11:30 am and 3:30 pm. Savory pizza selections to look forward to at Harbour Grille include four cheese, spicy chorizo, Mediterranean vegetable, and Italia, just to name a few. No matter which you choose, your tastebuds are sure to thank you.  
Elevate Your Grand Cayman Adventure with The Residences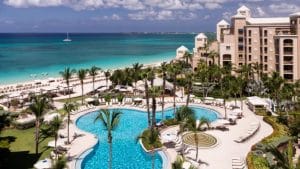 Taking time to unwind, relax, and enjoy life on Grand Cayman is always a delight. Knowing you've booked beautiful and luxurious accommodations to top it all off makes it that much better! That's where reserving your place at The Residences is sure to inspire.
Our collection of captivating vacation rentals within the Ritz-Carlton pair impeccable luxury and style with the quality, comfort, and convenience travelers deserve to enjoy. While the amenities we offer are unsurpassed, the many resort experiences available to guests work to elevate the moment to an even more exceptional level of excellence. Browse our property options today and get in touch to learn more about turning Grand Cayman travel plans into a reality.