Are you planning on flying to Grand Cayman for your vacation? In order to start planning, you'll have to decide on which airport you will use! It's time to put your tray table in the upright position and book that flight. There are multiple direct flights to Grand Cayman, so you have many options to make travel plans. Let us help you decide what is right for you!
First, choose your direct flights to Grand Cayman. Then, start planning the rest of your trip! Our complimentary Vacation Guide has everything you need to know for the getaway of a lifetime.
Which Airlines Provide Direct Flights to Grand Cayman?
From the United States, direct flights to Grand Cayman are provided by the following airlines:
American Airlines:

Boston, Charlotte, Chicago, Dallas, Detroit, Miami, Philadelphia 

United:

Chicago, Houston, Newark, Washington, DC

JetBlue:

Boston, Fort Lauderdale, Baltimore/Washington 

Delta:

Atlanta, Detroit, New York/JFK

Southwest Airlines:

Fort Lauderdale, Houston, Baltimore/Washington

Cayman Airways:

Denver, Miami, New York, Tampa, Los Angeles (coming November 2022)
International airlines that fly directly are: 
Daily Direct Flights to Grand Cayman with Cayman Airways
Cayman Airways, the Cayman Islands' government-owned airline, operates a nonstop service from multiple cities across the U.S. You can fly out of Denver, Miami, New York, Los Angeles, and Tampa. Miami is always your best bet for the quickest flight–  the Cayman Islands are just an hour-long flight away!
Cayman Airways recently announced they will begin offering a direct flight from Los Angeles in November of 2022. Learn more here! 
Use This Handy Website to Plan Your Flights
The official Cayman Islands website is a great resource for planning your flights! Here, you can search for all available flights. Of course, if you are not near one of the cities that flies directly to Grand Cayman, you will have to have a flight with at least one layover. We promise the vacation is worth it! 
We'll Give You a VIP Airport Experience
At The Residences Located at The Ritz-Carlton, Grand Cayman, we know that your time is important. We are able to offer VIP Arrival and Departure Services to get you through the airport in no time! You will enjoy a personalized escort through the airport and Customs and private transport to and from the airport to your property. 
Typically, the arrival experience is under 20 minutes from the exit of the aircraft to boarding of ground transportation. For high-season departures, we recommend a guest and baggage property front door pickup no less than two hours before the flight departure time. With these services, you can enjoy as much time on our island as possible!
You Chose Your Flight, Now Book Your Stay!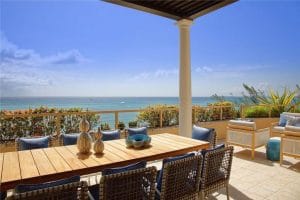 When you come to the Cayman Islands, you deserve to stay in the best accommodations possible. After your direct flight to Grand Cayman, you will love relaxing at The Residences Located at The Ritz-Carlton, Grand Cayman. Let us take your bags to your luxurious lodging, then head straight to one of our pools or the beach. Browse our exclusive Residences to start planning your stay. Your dream vacation awaits!