The East End of the Cayman Islands transports visitors into the Cayman Islands' rich culture. The district perfectly preserves all of the natural beauty the island has to offer, from its untouched coastline to its small, local eateries. If you want to see our area from a local's view, take a trip down Seaview Road for a fully immersive experience at the East End.
Craving more? For a comprehensive list of all of our recommendations to enjoy during your getaway, access our exclusive Vacation Guide!
Discover the Best of Grand Cayman
Everything You Need to Know About the East End of the Cayman Islands
Where to Eat
Dining options on the East End are unparalleled. Come here for eateries you can't find anywhere else. Don't judge a book by its cover—the local fish fries and backyard diners will have your taste buds begging for more.  
Captain Herman Fish Fry
Herman Fish Fry is as fresh as it gets. The chalk-written menu changes daily based on the week's catch so it's hard to recommend just one dish, but know that you can't go wrong with any of the sweet Caribbean entrees. The food isn't the only authentic part of this restaurant. Choose a colorful picnic table in the sand, munch on an order of curry conch fritters, and bask in a Caribbean Sea sunset.   
Vivine's Kitchen
Ask any local to point you in the direction of flavorful fare and you'll wind up at Vivine's Kitchen. The restaurant prides itself on their fresh catch and authentic, spongy rum cake, but locals gush over the oxtail stew. You'll want to come hungry because Vivine's isn't shy about portion size. Refresh with homemade guava or tamarind juice while lounging at a beachfront picnic table.
Hit the Best Beaches
Grand Cayman is brimming with pristine beach options. Spend the afternoon on a quieter beach soaking up sandy spots and diving into the aqua-colored waters of the East End.
East End Beach
East End Beach, also known as Colliers Beach, provides a long, picturesque coastline. It dreamingly combines warm sand between your toes and luscious grass for the perfect barefoot stroll. The waters are typically gentle due to the beach's surrounding reef, so swimming is always an option. The beach also offers shaded picnic tables and adequate parking. There's nothing fancy about Colliers, but let's be honest—who needs ornate when you have the ocean.  
Heritage Beach
Heritage Beach is filled with a little bit of rocky coastline, sprinkled with local beach chairs, and blanketed in the luminous Caribbean sunshine. If you're lucky enough, you can catch an oceanside show at the beach's small stage. Turtle grass grows rampant in the waters making way for a diverse marine eco-life.
Explore more of Cayman Islands' beaches. Check out our list of all of our favorite beaches in the islands.
What to See on the East End
The landscape of Grand Cayman is ecologically diverse. There's more to the island than its crystal white beaches and exquisitely clear waters. Explore the Caribbean marshlands and natural wonders that you'll only find in the East End.
The Blowholes
Traveling from The Residences Located at The-Ritz Carlton, Grand Cayman, south to the East End, you won't be able to miss Cayman's iconic blowholes. The ocean wonder entertains young and old alike. What is a blowhole? It's where the ocean collects in an underwater cavern and builds up enough pressure to shoot through a large opening creating a majestic scene. Bring your camera and wait for the perfect shot before continuing your trip to the East End.
East End Marshland Natural Habitat
If you love birdwatching, you're going to love the East End Marshland. Whether you're looking to spot your first Cuban Amazon or listen to the songs of the bullfinches, you'll likely find them nuzzled into this inland marshland. The nature preserve won't take up your whole day, but it does guarantee a relaxing stop while on this side of the island.
Ocean Frontiers Diving Adventures
Feeling adventurous? Take a dive with Ocean Frontiers. Experienced divers rollick in exciting trips such as the Kittiwake wreck dive or a sunset night dive. The company's PADI Diver Training program caters to beginners of all sorts from introductory scuba diving classes to open water dives. Grand Cayman Island supplies world-class diving conditions with reefs and wildlife ensured to awe its visitors.
Start Planning Your Grand Cayman Getaway!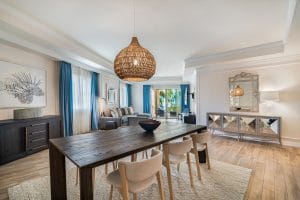 Once you've explored all that the East End of the Cayman Islands has to share, come back to The Residences Located at The Ritz-Carlton, Grand Cayman. Stay in the immaculate and pet-friendly Residence 201 and relish in its luxurious accommodations. The open floor plan retreat includes three bedrooms, a spacious living and dining area, a chef's kitchen, and overlooking views of the property's lush gardens.
All of our properties include an array of elegant amenities. Enjoy a round at The Ritz-Carlton's nine-hole golf course, a hot stone massage at the Spa, private beach access, eco-adventures by Jean-Michel Cousteau, and more! We have thought of everything so you don't have to. Check our availability today!