With sugar-white sand and sparkling blue water, it's hard to imagine a more perfect paradise than the Cayman Islands. From Seven Mile Beach to Rum Point, some of the world's most beautiful beaches can be found here, and the only thing missing is you! If you've been dreaming about your next Caribbean vacation, now is the time to start planning your getaway. We've compiled a list of the best beaches in the Cayman Islands to help you prepare for your trip. Before you go, make sure to request access to our complimentary Vacation Guide for more suggestions about things to see and do in Grand Cayman!
7 of the Best Beaches in the Cayman Islands
1. Seven Mile Beach
When it comes to the best Grand Cayman Island beaches, Seven Mile Beach is in an entire league of its own. Soft white sand, crystal-clear Caribbean waters, and breathtaking views are just the beginning of what you'll discover here. While this award-winning beach is known for its beauty, it also offers excellent restaurants and bars, endless activities, and spectacular sunsets. Visitors can enjoy paddleboarding, parasailing, snorkeling, jet-skiing, swimming, or simply strolling miles of uninterrupted shoreline. Take a short boat ride to Stingray City, visit the nearby Cayman Turtle Centre, or go on a helicopter tour to see the beach from a bird's eye view. Whether your ideal vacation consists of relaxation or adventure, you can experience it all when you stay at The Residences Seven Mile Beach in Grand Cayman!
2. Rum Point in Grand Cayman
Also considered one of the best beaches in the Cayman Islands, Rum Point is a favorite destination for visitors and locals alike. Located on the north end of the island, this family-friendly beach features a long stretch of sandy shoreline and shallow waters that are great for swimming and snorkeling. Here you'll find volleyball nets, hammocks, great restaurants, showers, changing rooms, and restrooms. Some of the best watersports companies are also located in Rum Point, so you'll find plenty of opportunities to have fun out on the water. For a truly unforgettable experience, we recommend taking a tour of nearby Bioluminescent Bay!
3. Cayman Kai Beach
This is the ideal spot for visitors who are looking for a bit of privacy. Cayman Kai Beach is one of the more secluded spots in the Grand Cayman, providing a quiet escape from the hustle and bustle of thriving island life. Enjoy the peace and quiet!
4. Governor's Beach
A great place for snorkeling, Governor's Beach in Grand Cayman is located on Seven Mile Beach directly in front of the Governor's home. Enjoy a romantic stroll along the quiet shoreline, share a picnic by the sea, or snorkel out to the coral reefs and let the colorful fish swim right up to you. Don't forget to bring your underwater camera!
5. Cemetery Public Beach
While this beach is gorgeous in and of itself, the real draw is the coral reef located 30 yards offshore. Renowned for its sheer beauty and variety of fish, Cemetery Reef is a popular destination for snorkeling and diving. Because the reef is so close to shore, you can swim right out to it and back. The crystal-clear water makes it easy to see all the way to the bottom of the ocean floor.
6. Spotts Beach
This quiet beach is one of the best places to look for sea turtles. With its remote location, Spotts Beach in Grand Cayman rarely sees large crowds or heavy traffic. Walk out to the pier and watch the wild turtles swim by, or grab a snorkel and swim among them. You're also likely to see parrot fish, snappers, jacks, lionfish, flounder, or stingrays. Afterward, head to one of the picnic tables for a peaceful lunch beside the water.
7. West Bay Public Beach
West Bay Public Beach has everything you need for a fun day in the sun! Located at the end of Seven Mile Beach, this spot has a variety of restaurants and a boating ramp where you can launch watercraft. Restrooms and changing facilities are also available.
Book Your Grand Cayman Beach Getaway Today!
Now that you know where to find all of the best beaches in the Cayman Islands, it's time to start planning your trip! Overlooking the widest stretch of Seven Mile Beach, The Residences Seven Mile Beach in Grand Cayman offers the ideal accommodations for your getaway. Our luxurious properties range from oceanfront rentals and poolside condos to private homes, upscale villas, and more. We also offer pet-friendly rentals for guests who are traveling with their four-legged friends!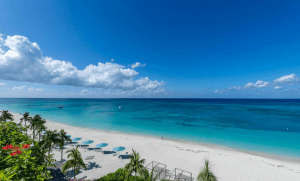 Just steps from the shoreline, Residence 605 has everything you could ever want or need while on vacation. No detail has been overlooked in this stunning oceanfront residence, which features our grandest floor plans and unparalleled views of the Caribbean. After an incredible day in paradise, relax with a cocktail and enjoy the views from any of the multiple private terraces. Once you visit, you may not ever want to leave! Check our availability and book your Grand Cayman beach vacation today. We can't wait to welcome you to paradise!