No matter the time of year, there's always plenty to see and do in the Cayman Islands. Did you know that fall is one of the best times to plan your vacation? The weather is fantastic, and there's an array of activities and events that are sure to make your trip unforgettable. Here's everything you need to know about experiencing fall on Grand Cayman. 
Are you ready to start planning your Grand Cayman getaway? Check out our complimentary Vacation Guide for everything else you need to know about the island!   
The Top 3 Reasons Why You Need to Visit Grand Cayman in the Fall 
1. Wonderful Weather 
Warm, sunny weather isn't just reserved for the summer in the Cayman Islands. On Grand Cayman, our incredible weather continues throughout the autumn months, making fall a great time to visit. Temperatures throughout the day are blissful and range in the mid to upper 80s. The evenings cool off a bit but remain comfortable in the 70s. There's no need for bulky fall scarves and sweaters! When you pack for your Grand Cayman fall trip, think easy, breezy clothing!
This unmatched Grand Cayman weather is ideal for all kinds of activities. Test your skills and play a round at our golf course located right onsite. Don't let your ball land in the saltwater lagoon! Or, how about a game of tennis? The Residences Located at The Ritz-Carlton, Grand Cayman offers three clay and two hard tennis courts for our guests.
2. Exciting Events
No matter the time of year, you'll never run out of things to do when visiting the Cayman Islands. Various events come to our island every fall including Pirates Week, Restaurant Month, and Cocktail Week. 
Cayman Islands Pirates Week
Cayman Islands Pirates Week is five days of nonstop fun for the whole family! This celebration of Carribean culture is one of the biggest events of the year. The event takes place in November and is jam-packed with spirited parades, dazzling fireworks, and plenty of tasty food. Don't miss the mock pirate invasion! Thousands of visitors gather to watch as two pirate ships float in from the sea into George Town Harbor.
Restaurant Month
In October, indulge in some of the best food Grand Cayman has to offer during Restaurant Month. This event was designed to give both locals and visitors opportunities to dine at some of the Cayman's most delicious restaurants at the best possible prices.
Cocktail Week
For the best of both worlds, make sure you visit during the end of Restaurant Month for Cocktail Week! Restaurants and bars have special boozy menus and events throughout the week such as an Appleton Rum Pop-Up Bar and a Tequila Masters Workshop. 
3. Superb Swimming
Usually, the start of fall means the end of the swimming season. Not here on Grand Cayman! Autumn on the island is still perfect for days exploring Grand Cayman beaches. 
The Residences Located at The Ritz-Carlton, Grand Cayman, is conveniently situated right on Seven Mile Beach. With its crystal clear water and soft sand, it's easy to see why it's voted one of the best beaches in the world by MSN. When visiting Seven Mile Beach, you can snorkel in Cemetery Reef, chill out at our beach bar, and find one-of-a-kind trinkets at dive shops.
If you would rather sunbathe by the pool, you have your choice of two when you stay at The Residences Located at The Ritz-Carlton, Grand Cayman. The signature oceanfront pool offers gorgeous views of Seven Mile Beach. The North Sound pool is tucked-away and provides prime opportunities for swimming and getting a sun-kissed tan. 
Book Your Fall Getaway Today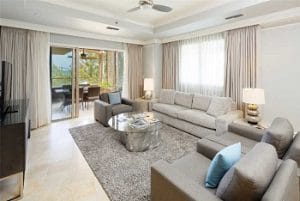 Are you ready to experience fall on Grand Cayman? Book your stay at The Residences Located at The Ritz-Carlton, Grand Cayman today! Each of our deluxe Residences provides access to all of the resort's amenities and activities such as private entrances and elevators, concierge and bellman services, swimming pools, and more. Browse our Residences and start planning your fall trip today!