Take a moment and picture your idea of paradise. What comes to mind? It's probably swaying palms, crystal clear water, and sand beneath your toes. Experience the island oasis of your dreams when you stay on Seven Mile Beach in Grand Cayman. This award-winning beach is known as one of the best in the Caribbean, and The Residences Located at The Ritz-Carlton, Grand Cayman, is situated right on the sand. Start planning the getaway of a lifetime when you access our complimentary Vacation Guide! 
5 of the Best Things to Do on Seven Mile Beach, Grand Cayman
1. Just Relax
When you're on vacation, there's no reason why you can't just sit back and enjoy yourself. Grab a lounge chair or a cabana and let your worries slip away under the sun. Work on your tan, then take a dip in the ocean to cool off. A pina colada will help you relax, too! With no interruptions, you'll finally have the time to read that book you've been meaning to get to.
2. Take a Swim 
Whether you need to take a break from the sun in the cool waves or you want to spend the day snorkeling, Seven Mile Beach is an excellent spot to get in the ocean. The water is very clear here, so it's an excellent spot to don your snorkel gear and see some underwater life. There are plenty of snorkeling excursions our concierge service can recommend to you, or you can rent snorkel gear and get out there on your own. 
3. Sip Sip, Hooray
What's better than sipping a cold drink on a hot day? The Residences Located at The Ritz-Carlton, Grand Cayman, has a beach bar right on site. Bar Jack is the go-to for all your beach and pool dining needs. Dine right on the beach or sip your tropical drink of choice as you take in the scenery. Plus, there are plenty of other beach bars you can try out during your vacation!
4. Get a Jet Ski Rental
There is an array of jet ski rental options on Grand Cayman, and there are even some conveniently located on Seven Mile Beach like Salt Watersports. You can zip around the calm, blue water and see the island from a whole new perspective. It's the perfect opportunity to try something new!
5. Go Fishing 
The Cayman Islands are home to some of the best fishing in the Caribbean. Spend the day out on the water on a fishing charter. The captains of these charters know the water better than anyone, and they can take you to all of the best places to cast your line. Catch fish such as wahoo, tuna, and mahi-mahi! 
Book Your Seven Mile Beach Getaway Today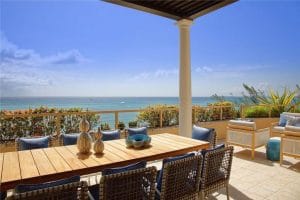 Stay right on the beautiful Seven Mile Beach on Grand Cayman when you book your getaway at The Residences Located at The Ritz-Carlton, Grand Cayman. Our luxury villas are the best place to stay on the island because you get plenty of space to spread out along with all of our resort amenities and activities. Our Residences come complete with multiple bedrooms, outdoor patios, stunning views, designer decor, and more. Browse our Residences to start planning your getaway!