Because of its Caribbean climate, Grand Cayman is the perfect place to visit in December. From sandy beaches to chartered yachts, make the holidays a hit with your family this year. Swim with turtles or play a round of golf while you start a new holiday tradition in the Cayman Islands this winter.
As you plan your trip to Grand Cayman, evaluate all of the dining and relaxation options our island has to offer. Make sure to request a free copy of our Vacation Guide to start planning the rest of your dream getaway!
Three Reasons Why You Should Visit Grand Cayman in December
Dry and Sunny Weather
Grand Cayman is a beautiful Caribbean Island that experiences dry and wet seasons throughout the year. From November to April, the Caymans have their dry season with no expectations of hurricanes. Temperatures during December average a high of 84 and a low of 70, with plenty of sun and no rain.
You might want a white Christmas, but a Cayman Island white Christmas features sand, not snow.
Winter Events on Grand Cayman Island
Grand Cayman has several fun winter events, such as their National Parade of Lights and the Cayman Islands Marathon in early December. Additionally, you can always count on a memorable Christmas when you stay in Grand Cayman for the holidays!"
The Cayman Drama Society produces "A Playhouse Family Christmas," a holiday-themed variety show centered around Grizz the grumpy housecat and Frizz a happy mouse. If you are looking to feel at "home for the holidays," then Camana Bay is your destination. The town centre will be lit and decorated for the occasion, and you will have chances to win raffle prizes when you shop downtown. There will also be Christmas music playing, pictures with Santa, outdoor holiday movies, and live music concerts throughout December.
Grand Cayman Without the Tourists
Grand Cayman is a popular tourist destination, but December is one of our quieter times of the year. Take full advantage of the reduced crowds to experience the best the island has to offer, like deep-sea fishing with Crystal Charters.
If you are looking to experience something unique and local, try The Cracked Conch for dinner or see the stingrays in Stingray City. Grand Cayman has a unique experience for everyone in your family and is sure to put smiles on your faces your entire trip.
Book Your Winter Getaway Today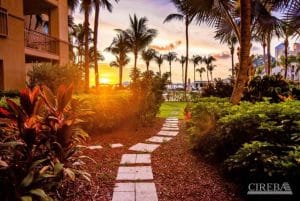 Change your holiday scenery this winter when you book your Grand Cayman vacation in December! Elevate your vacation when you stay in the island's best accommodations: The Residences Located at the Ritz-Carlton, Grand Cayman. Browse our deluxe residences to start planning your getaway. Each comes with stunning views, concierge services, outstanding amenities, and more. Plus, you'll have access to two pools, a private stretch of Seven Mile Beach, golfing, and tennis courts. It doesn't get any better than this!