If you're searching for a tropical vacation destination, look no further than Grand Cayman. The largest of the three Cayman Islands, Grand Cayman boasts a variety of activities for all types of travelers. Whether you want to laze around on the white sand beaches or swim with wild stingrays, our Caribbean oasis has something for everyone's interests. We recommend spending at least five days in Grand Cayman to experience all that the island has to offer. To help you narrow down your bucket list, we've created a complete 5-day itinerary to Grand Cayman! 
When you're ready to start planning your trip to the island, request our free Grand Cayman Vacation Guide. This visitor's guide is filled with local recommendations on what to do, see, eat, and more during your stay. It's easy to expand your Grand Cayman itinerary using this tool! 
Request Your Grand Cayman Vacation Guide 
Bookmark This 5-Day Itinerary to Grand Cayman
Day One: Check-In to Your Grand Cayman Rental
You'll probably be tired after a full day of traveling to Grand Cayman Island. The first thing you'll want to do is check in to your rental with The Residences Located at The Ritz-Carlton, Grand Cayman. Get settled into your private condo or villa before commencing your getaway with dinner at Blue by Eric Ripert. 
Local tip: Our VIP Arrival & Departure Services make it even easier to navigate the airport, customs, and transportation. Book this service along with your rental home for the most stress-free stay! 
Day Two: Sink Your Toes in the Sand
No trip to Grand Cayman would be complete without a trip to the beach. When you stay at The Residences, the white sand beaches and crystal-clear waters are right outside your door. Spend your first full day at Seven Mile Beach. This 6.3-mile stretch of beach is the perfect place to sunbathe and start a new book! 
Day Three: Explore the Sea 
The Caribbean Sea is home to awe-inspiring marine life, making scuba diving one of the most popular activities in Grand Cayman. Sea turtles, stingrays, and more await under the sea! 
Here are some of our favorite local dive sites: 
Day Four: Indulge in Local Flavors
Grand Cayman's culinary scene is a melting pot of international flavors. No matter what you're craving, you can find the best version of it on the island. However, you must indulge in the local Caribbean cuisine while you're here. Seven, an island-inspired steakhouse, highlights the happy marriage between high-quality steak and seafood with Caribbean flavors. 
Local tip: Reserve a spot on the oceanfront cabana for an unforgettable dining experience! 
Day Five: Visit Pedro St. James National Historic Site
While most visitors come to the island to relax, don't miss out on the opportunity to learn a thing or two about this area's history! Pedro St. James National Historic Site is just a short drive from The Residences. Also known as Pedro's Castle, this landmark is home to the oldest existing building in the Cayman Islands and is the birthplace of Caymanian democracy. 
Book Your Stay at The Residences Located at the Ritz-Carlton, Grand Cayman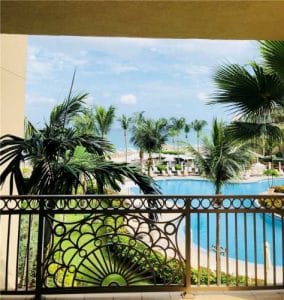 Ready to live out the activities on this 5-day itinerary to Grand Cayman? The next step is finding your perfect rental at The Residences Located at The Ritz-Carlton. Our properties are the perfect place to begin and end each day of your Caribbean getaway! 
Browse our properties to start planning the trip of your dreams to Grand Cayman!