Thanksgiving should be a time to reconnect with family, not stress about feeding a large group and cleaning the house. Why not turn the holiday into a stress-free vacation? Pack your bags and the family, and enjoy a relaxing Thanksgiving in Grand Cayman!
Although we list some suggestions for things to do during your stay below, there is so much more to do in the Cayman Islands! We will send you our complimentary Grand Cayman Vacation Guide right to your email inbox with all of the best things to do on the island.
Here's Why You Should Spend Thanksgiving in Grand Cayman
1. Dry and Sunny Weather
Grand Cayman is a beautiful Caribbean Island that experiences dry and wet seasons throughout the year. From November to April, the Caymans have their dry season with no expectations of hurricanes. Temperatures during December average a high of 84 and a low of 70, with plenty of sunshine and no rain.
2. Stress-free Holiday
From preparing a feast to making sure the house is ready for guests, Thanksgiving can be a stressful time. Instead, imagine the spotless kitchen when you arrive, the extra time to connect with family, and catching a tan on the beautiful beaches of the Caribbean. Don't feel like cooking at all? No problem. Although all of our residences feature gourmet kitchens with high-end appliances, you'll also have access to everything the Ritz-Carlton Resort, Grand Cayman has to offer including six unique and delicious restaurants. Plus, Cayman Islands is a British territory and does not observe Thanksgiving like the United States. This means you'll be able to experience everything the islands have to offer during your tropical holiday!
3. Fill Your Trip With Outdoor Fun
Hit the Beach
Grand Cayman is world-renowned for beaches and water sports that can be enjoyed by the whole family. The resort sits on Seven Mile Beach perfect for snorkeling or just listening to the calm waves roll in. You'll also have access to complimentary use of water trikes, kayaks, floating rafts, and water hammocks.
Play a Round of Golf
Enjoy a challenging round of golf surrounded by sparkling waters and tropical beauty. The entire family will love the nine-hole course at The Ritz-Carlton Golf Club. Grand Cayman is also home to the North Sound Golf Club, a gorgeous 18-hole championship golf course suitable for visitors of all ages and skill levels.
Visit Stingray City
Stingray City is one of the most popular attractions in Grand Cayman because people of all ages enjoy getting to swim with the fascinating animals. The attraction takes you to a sand bar with clear waters where wild stingrays freely roam. You and the kids will have a blast making this unique Thanksgiving memory!
Book Your Thanksgiving in the Caribbean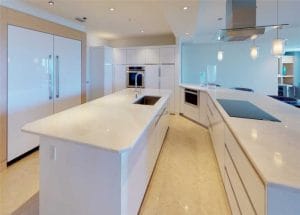 The Residences Located at the Ritz-Carlton, Grand Cayman is the best place to spend your Thanksgiving on the island. Our luxury vacation rentals feature large open kitchens, ample space for gathering, and breathtaking views of the ocean. Plus, the award-winning Seven Mile Beach is always just steps away. You'll also have full access to the resort's amazing amenities as well as our exclusive Concierge Services and Full-Service VIP Arrival and Departure Services. You won't have to lift a finger during your stay if you don't want to!
Browse our luxury residences now and start planning your Thanksgiving in Grand Cayman!