We know what goes into planning a vacation. From flights to packing, every detail needs to be considered. Arguably, the most important part of planning your getaway is where you'll stay. You'll spend most of your time there, so it needs to be perfect. Grand Cayman vacation rentals versus hotels is a common predicament when planning your vacation. Here's what you need to know to make your choice! 
If you're planning a getaway to Grand Cayman, make sure you access our complimentary Vacation Guide! Inside, you'll find our top picks for all the best things to see and do on the island. 
What You Need to Know About Grand Cayman Vacation Rentals vs. Hotels
1. Vacation Rentals Have More Space
There's nothing worse than vacationing in a cramped space. If you're looking for luxury, our exclusive vacation rentals are the way to go. Not only can everyone have their own room in your private space, there are also shared spaces where the whole family can be together. You can easily all fit around the dinner table and share your favorite memories you made that day!
2. You Won't Lose Your Amenities at a Vacation Rental
One of the main reasons guests choose to stay at hotels rather than vacation rentals is because hotels seem to offer more amenities. At The Residences Located at The Ritz-Carlton, Grand Cayman, that is not the case! Because our luxury condos are located at the resort, our guests have access to all the amenities and activities. Enjoy two pools, tennis courts, beachside service, and so much more. 
3. You Can Use the Kitchen in a Vacation Rental
Of course, one of the best parts about vacation is going out to eat and experiencing local cuisine. However, a home-cooked meal is a nice change from time to time, especially for longer stays! At The Residences Located at The Ritz-Carlton, Grand Cayman, our kitchens have state-of-the-art appliances that beg to be used. Head to the Camana Bay Farmers & Artisans Market to get the freshest produce in town, then whip something up! 
Book Your Grand Cayman Getaway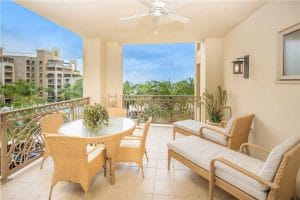 Now that you know the difference between Grand Cayman vacation rentals vs. hotels, it's time to book your stay! If you're considering a vacation rental on the island, browse The Residences Located at The Ritz-Carlton, Grand Cayman. Because our luxury Residences are located on the resort, it's like you get the best of both worlds! 
You'll love waking up to the sound of crashing waves and walking outside to stunning views of Seven Mile Beach. All of our Residences and villas have designer furnishings, gorgeous patios, and so much more. Browse our accommodations to start planning your stay– we promise you won't be disappointed.