A trip to Grand Cayman will give you access to experiences you've never had access to before! Our island paradise is like no other. Did you know you can even take a trip to Hell in Grand Cayman? Located in West Bay, an array of jagged black limestone rocks make up this incredible formation. Visitors flock here to see this interesting sight!
If you're planning a trip to the Cayman Islands, take advantage of our complimentary Vacation Guide. Vacation preparation can be challenging, so we chose our favorite things to do in the area to save you from hours of research. Skip the tedious part of planning and go right to making memories. Use our helpful guide to find:
Outdoor activities for all skill levels like visiting

Hell in Grand Cayman

The best restaurants in the area

Cultural events, museums, and entertainment

Festivals and attractions you won't want to miss
About Hell in Grand Cayman
The whole family will love this unique experience! Don't let the name deter you– while technically unknown why this geological formation was named Hell, there are a few legends that may explain it. The most popular opinion of where it got its name is because of how it looks; many believe it to be similar to Hell's landscape. Another theory is that if you throw a pebble into the rocks, an echo makes it sound as if it is falling into a deep abyss.
These limestone formations look as if you are looking out onto another world. Black and jagged, they are the opposite of what you would expect to see against the white sands and blue waters of Grand Cayman! This particular formation is known as "ironshore;" it is actually a fossilized coral reef that is more than a million years old.
Visiting Hell in Grand Cayman
You can come visit Hell in Grand Cayman on your own or through a tour. Admission is free and there is an expansive viewing platform to look over the limestone. A popular activity here is to send a postcard; it will be postmarked from "Hell." There is also a gift shop filled with themed souvenirs for you to browse through. Find funny t-shirts and hell-pun memorabilia here!
If you're looking to tour the rest of the island, we recommend an excursion with Cayman Safari Adventures. They offer various driving tours with stops at places like Hell in Grand Cayman to give you a true taste of the island! They also make sure to take you to some local spots so you'll know what Grand Cayman is really like.
Stay in the Finest Accommodations on Grand Cayman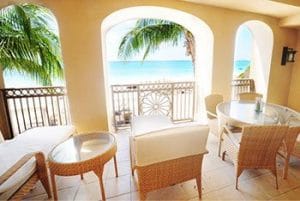 When you take a trip to paradise, you deserve to stay in the finest accommodations Grand Cayman has to offer. Imagine waking up every morning to gorgeous ocean views, then going outside to your private terrace as you sip on your coffee. The Residences Seven Mile Beach in Grand Cayman has everything you need to create a dream vacation. Choose from our luxurious properties of various sizes, each with state-of-the-art appliances and elegant designer furnishings. It's time to start planning your island getaway!