The capital of the Cayman Islands, George Town, is located moments away from The Residences Seven Mile Beach in Grand Cayman. This area of the island is buzzing with energy that beckons you to come explore. From going for a dive to relaxing at a restaurant, there are countless things to do in George Town in Grand Cayman. You will surely make your way to this part of the island during your stay!
If you're planning a trip to the Cayman Islands, take advantage of our complimentary Vacation Guide. Vacation preparation can be challenging, so we chose our favorite things to do in the area to save you from hours of research. Skip the tedious part of planning and go right to making memories. Use our helpful guide to find even more things to do in George Town in Grand Cayman like:
Outdoor activities for all skill levels

The best restaurants in the area

Cultural events, museums, and entertainment

Festivals and attractions you won't want to miss
4 of the Best Things to Do in George Town in Grand Cayman
1. Delicious Restaurants
With all the things to do in George Town in Grand Cayman, you are sure to get hungry! One of the best things to enjoy on the island is the delectable dining offered here. George Town, in particular, contains some truly outstanding places to dine. With remarkable views and one-of-a-kind cuisine, you are guaranteed to have an unforgettable experience here. You deserve to indulge a little on your vacation!
2. Shop 'Til You Drop
When you go on vacation, you want something to remember your trip by! Because of the uncommon tax-free laws, the Cayman Islands have become an increasingly popular place to shop. George Town is the perfect place to do some island shopping.  Here, you'll find everything from locally-made goods to high-end merchandise. Whether you're looking for souvenirs or unique gifts, this spot has it all!
3. George Town Nightlife
Spend a night out on the town in George Town! The nightlife here is full of fun things to do. Indulge in gorgeous views of swaying palms and sparkling waters as you sip on a cocktail or glass of wine. Enjoy the beautiful sunset at My Bar at Sunset House, go salsa dancing at the Wharf, play games at the South West Collective, or sip cocktails at Bar Crudo. With so much nightlife here, the list is nearly endless!
4. Go for a Dive
If you're looking for underwater things to do in George Town in Grand Cayman, go to the Eden Rock Dive Center! Have an unforgettable day here when you scuba dive or snorkel. They offer guided tours and diving instruction for all skill levels, so you never have to worry about being ill-prepared. See gorgeous underwater sights like coral, fish, and other sea creatures!
Where to Stay While Visiting the Cayman Islands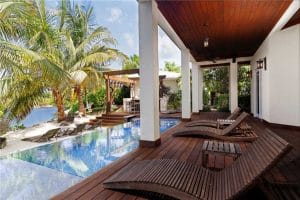 All these things to do in George Town in Grand Cayman are just a taste of what the rest of the island has to offer! Complete your dream vacation in this heavenly destination by treating yourself to luxury like you've never experienced before. The Residences Seven Mile Beach in Grand Cayman offers the finest accommodations on the island. Our rentals come in various sizes and views so you can pick and choose for your perfect vacation. Step out onto the soft sands from a ground floor rental or see sweeping views on a higher level. What are you waiting for? Book your stay in paradise today!