There's nothing like a beautiful Caribbean sunset to end a perfect day in paradise. If you are searching for the best place to watch the sunset in Grand Cayman, you won't have to look far. While there are several prime viewing destinations throughout the islands, we have selected only the best to recommend to you. No two Cayman Island sunsets are the same, so be sure to watch a few of them during your stay. Discover even more things to see and do when you access our complimentary Vacation Guide!
5 of the Best Places to Watch the Sunset in Grand Cayman
1. Seven Mile Beach
When it comes to the best place to watch the sunset in Grand Cayman, Seven Mile Beach should be at the top of your list. Just as the name suggests, this world-renowned beach offers uninterrupted views of the horizon stretching as far as the eye can see. Dusk is the perfect time to take a romantic walk along this sandy shoreline, and you may even spot dolphins leaping in the waves. Don't forget to bring a camera!
2. Macabuca Tiki Bar
Located in West Bay, Macabuca Tiki Bar is the place to be if you want to watch the sunset with a tropical drink in hand. The premier oceanfront bar has a friendly, laid-back vibe and a sunset happy hour that lasts from 5 until 7. Order a handcrafted cocktail, relax, and enjoy the beautiful Grand Cayman weather!
3. Cracked Conch
If you're looking for dinner with a view, head over to Cracked Conch for great eats and spectacular sunsets. A local favorite, this oceanfront restaurant serves up a wide array of mouthwatering cuisine prepared by Caribbean Island's Chef of the Year Gilbert Cavallaro. Also voted runner-up in the "Caribbean's Top Restaurant" by Caribbean Travel + Life Magazine, this is one stop you definitely won't want to miss.
4. Rum Point
With a pristine white-sand beach and endless vistas of the Caribbean Sea, Rum Point is another place to add to your itinerary. Located on the north side of the island, the sunsets alone are well worth the trip. However, this family-friendly beach is also an ideal spot for snorkeling, swimming, or simply lounging in a hammock beside the water.
5. In the Caribbean
Is there a more perfect place to watch the sunset than the middle of the sparkling blue ocean? In Grand Cayman, it's easy to enjoy the sunset from a dinner cruise, glass bottom boat, jet ski, or private yacht. Enjoy the panoramic views and let the waves gently rock you into pure relaxation. It doesn't get much better than that!
Book Your Grand Cayman Getaway Today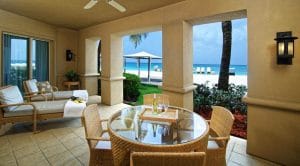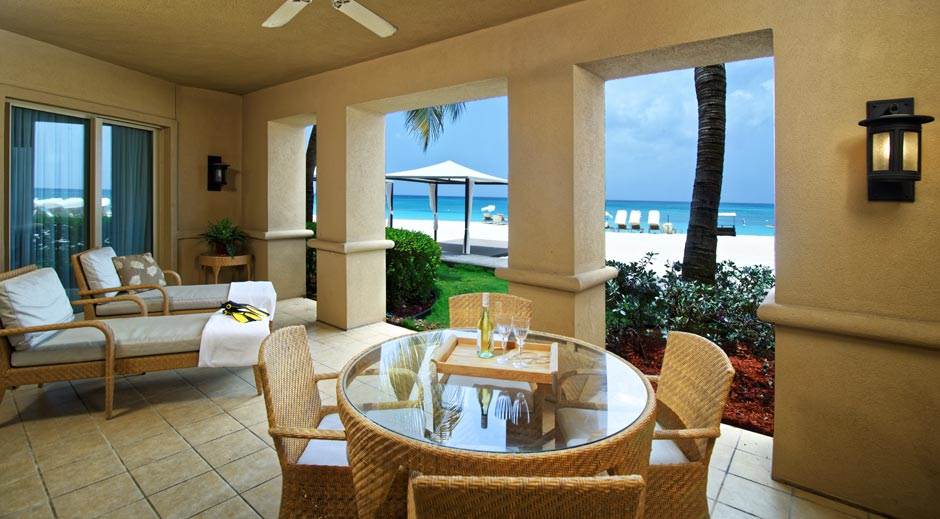 Did you know that you can watch some of the most beautiful sunsets right here at The Residences Seven Mile Beach in Grand Cayman? Overlooking the widest stretch of Seven Mile Beach, our luxurious Residences offer spectacular views and top-notch amenities. Many of them face the ocean, so you can watch the sunset from the privacy and comfort of your own home away from home. Our guests can also enjoy access to exclusive amenities including golf, tennis, beaches, pools, and so much more. So, what are you waiting for? Browse our Residences and start planning your next Caribbean vacation today!